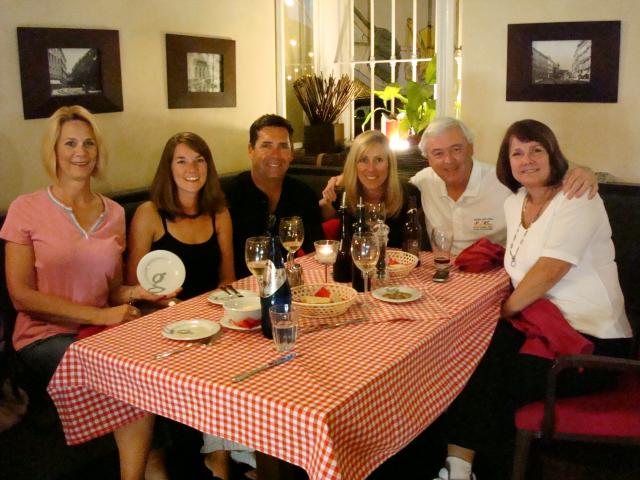 Hey everyone.  Terri P here again with a dinner update from Prague.  Again...we are bringing you everything, from where to eat to what to do and even where to stay!  We got home late from practice so we didn't get to dinner until 7:30pm.  
We wanted a good dinner so we went back to the Italian restaurant, Gratia.  It was the one I wrote about the other day.  AWESOME.  I struggled with deciding on what to have but I did it, ate the same thing.  I know, I know, where is the adventure Terri?  
I went with the Rob Higgins approach. He knows what he likes and that's what he eats.  I did the same, back to the Spinach Ravioli and the Tiramisu.  Big dilemma ensued.  Two Tiramisu's but three requests.  No problem.  Christine and I shared her dessert and yes, the Tiramisu and she saw how heavenly it was too.  
Matter of fact, I boasted so much about my meal the other night, one of my fellow dinner guests ate my exact meal and loved it.  Kevin tried Grappa from the biggest bottle ever and seemed to live to tell!  We even asked the owner to send in a blog about us so you will hear what kind of customers we are from the Gratia owners.  You will be surprised. Her English is probably better than many in America!
Well it is 12:30am and I have to get up at 6am for the big show!  We made lots of changes to the presentation so wish me luck clicking through the presentation to three different speakers.  I must say I cant wait to hear Tehran Iran's bid for Worlds.  Will definitely write about it.  Their team is so cool.
Oh and the USA team did well today.  Canada is kicking some butt though.  USA did all the butt kicking in Sydney in 2007.  More later everyone...and wish us luck tomorrow.