So it's been a good week for Jerm as far as trying new food items at local restaurants this week and last night was no different as I mosied my way on over to the
Gallerie Restaurant
at the
DoubleTree Guest Suites Tampa Bay
to sample some fine Tampa Bay dining last night.
I wasn't exactly sure what I was in the mood for, so I just told my bartender Alexis to just surprise me. I knew that I wanted either shrimp or chicken, but sometimes I just can't make up my mind so, letting an independent party make the decision for me is the best course of action.
There is plenty for you to choose from on the menu though, so feel free to go and expect to have a tough decision to make. I saw another guy at the bar eating some chicken wings and those looked good as well.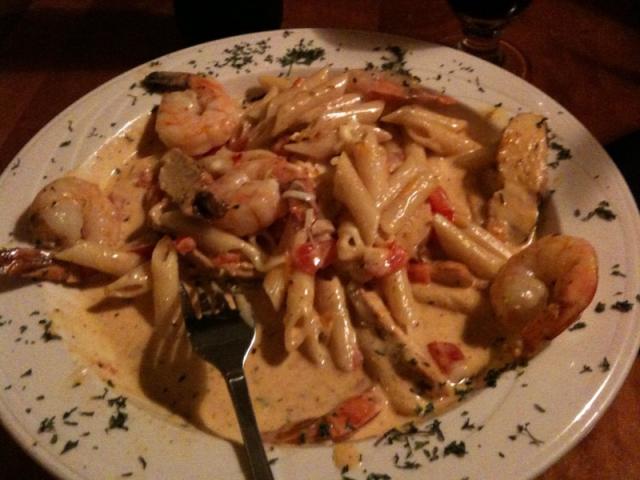 Didn't take long for Alexis to come back with what I can only described as the most heavenly plate of pasta I have ever seen. I couldn't decide if I wanted to take pictures of it or eat it!
It was this concoction of penne pasta, tomatoes, chicken, shrimp, and some sort of cheese sauce that I can't identify, but who cares, as it was "make you wanna slap someone" good! In addition to being tasty, it was very filling, as I couldn't finish the thing in one sitting.
That's not a bad thing though, as I just packed it up and will be having it for lunch today! Big shout out to the cook, Alvin Bronson for hooking that up! If Alvin is reading this. thanks and I say you guys officially add that to the menu and call it "
Jerm's Shricken Pasta Delight
." Get it... "Shricken" short for shrimp and chicken!
You can't go wrong no matter what you choose on the menu at the Galerie. Service is even better as Alexis or any of the staff will take good care of you. You guys know how picky I am about service and how I like to have my glass full at all times, and I can't say I remember a time when it wasn't so between the meal and the service it was indeed a five star dinner for Jerm!
That's all for now folks, but be sure to keep checking back for more things to do in Tampa Bay and Jerm's dining adventures!