Please pardon my potentially incorrect Italian translation above, but once I again I give away the subject of my blog post in the title! Hello everyone, Jerm here to tell you about one of my many fine Tampa Bay dining experiences from this past Wednesday at the
Donatello Italian Restaurant
!
For those of you who didn't know, this once Zagat Rated Top 1,000 Tampa gem has been part of the community for over 25 years! I am saddened to say that before Wednesday of last week, I had never eaten here before, but after a great dining experience like I had the other night, I will be back for more! From the moment you walk in the door, you are treated as if you are an honored guest, and that theme maintains throughout the evening. Everywhere we looked, there was a server taking care of our every need!
It generally takes allot to make me full, as some of you may know from reading my previous food related posts, but by the end of this meal, I think I needed a wheel barrow to take me out the door! The
menu is full of authentic Italian cuisine
, and I think we pretty much sampled all of it!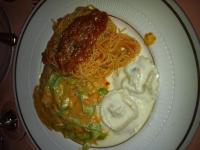 To kick things off we tried some of their famous
Bruschetta
, and being the pig that I am, I think I may have had about four or 5 samples, far eclipsing anyone else at the table with me! Net we tried a sampling of three pastas, and folks when I tell you the past here is 5 star, I mean its 5 STAR!!!
See the picture off to the right for evidence of that, but I could have just sat there and eaten pasta all day, especially the "Agnolotti Freschi Alla Crema," which was just amazing to say the least. In addition to that there was a delicious angel hair pasta and some fettuccine.
Believe it or not, I still actually had room left for my entree, as I decided to go with the Pollo Alla Milanese. Once again it was fantastic, and at this point I was beyond full, so I figured it was time to collect the check and head out! Bbbbbbbbut wait there was more!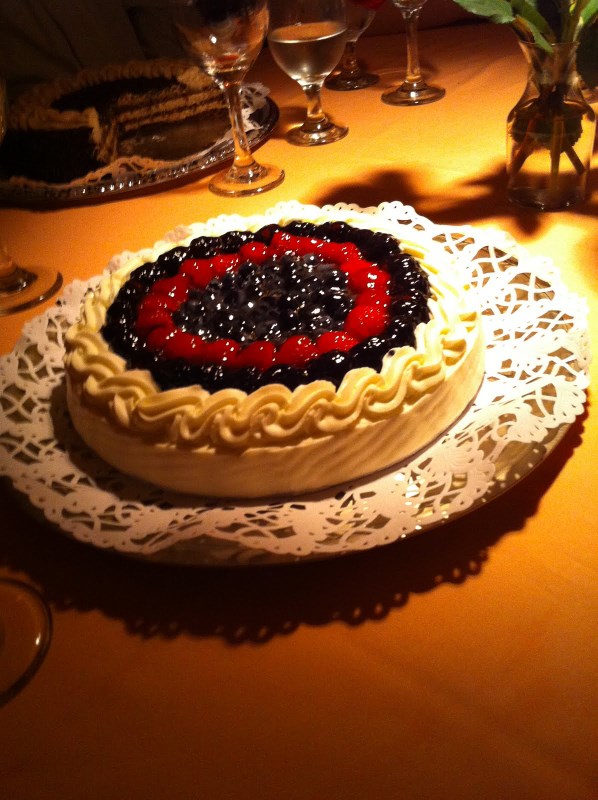 When I say more, I mean more in the form of the most delicious looking cheesecake I believe I have ever laid eyes on! If you don't believe me, then check out the image to the left to back me up! 
Trust me folks when I say that the picture doesn't quite do the real thing justice, it was quite delicious! Had I had room for it, I would have surely ordered seconds, but by that time, Jerm's tummy was a bit overloaded so I had to call it quits!
All in all folks, it was a very good night, and if you are looking for authentic Italian cuisine, you have to give Donatello a serious look, as they are upscale Italian dining at its best!
That's all i got for now, but be sure to check back in for more updates on where to eat in Tampa Bay updates from Jerm and the rest of the Tampa Bay team!