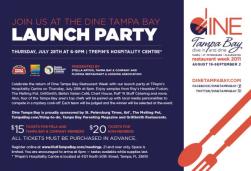 Hey folks! Jerm here with an update for you on Dine Tampa Bay Restaurant Week!
The 2nd annual Dine Tampa Bay Restaurant Week will take place from Aug. 19-Sept. 2, but the excitement begins much sooner.  This Thursday, July 28, professional chefs, dining enthusiasts and members of the Tampa Bay community will gather at TPepin's Hospitality Centre for the 2011 Dine Tampa Bay Launch Celebration. 
It all takes place from 6 p.m. to 9 p.m. and includes food sampling from area restaurants participating in Dine Tampa Bay, as well as beer sampling and entertainment.  And as part of the festivities, selected local media personalities will be paired with professional chefs to compete in the Dine Tampa Bay Mystery Cook-Off. 
Each team will be given a mystery bag of ingredients, along with a community table full of spices, seasonings and more, and be tasked with creating a stunning dish in only 20 minutes.  The catch – the professional chefs cannot touch or handle the food in any way; they can only direct their partner in preparing the entrée. 
Participating teams include: Ernest Hooper with the St. Petersburg Times and Tyson Grant with Parkshore Grille; Jack Harris with NewsRadio 970 WFLA and Ryan Mitchell with Fleming's; Chip Carter with FOX13 News and Kelly Marshall with Blue Water Grill at the Wyndham Tampa Westshore; Preston Rudie with 10 News and Gerry Malynowsky with Puff 'n Stuff Catering; and Ellen McNamara with ABC Action News and Chris Mascia with SONO Café & Tampa Museum of Art. 
The Tampa Bay community is also invited to participate in the Launch Celebration.  The cost is $15 for Tampa Bay & Company members and $20 for non-members. 
CLICK HERE TO REGISTER.
That's all for now, but stay tuned in for more updates on Tampa Bay dining and Tampa Bay area events!