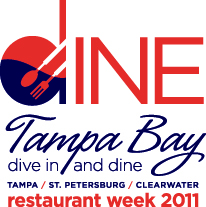 Good day everyone! The moment we have all been waiting for is here! Dine Tampa Bay Restaurant Week kicks off tonight with prix menus at some of the bay areas finest dining establishments!

Don't worry about not having enough options either as there are restaurants in over 10 different neighborhoods, three different prix fixe menu types, and 10 cuisine types for you to choose from!
Here are some tips to ensure you enjoy the next two weeks of awesome menus and food and to make sure you have an awesome dining experience!
Plan Ahead - As you can imagine, lots of people around town will be looking to take advantage of these menus, so make reservations on-line or be sure to call ahead after deciding where you will dine. This way you can avoid potentially long wait times at your favorite spots.
Bring Your Appetite - Now I know this one is a given, but a three course meal has the potential to really make your belly happy, so be prepared to "get your grub on!" I personally plan to make sure I am so full at each restaurant I visit I am bringing my own wheel-barrow to cart myself out in!
Ask for the Dine Tampa Bay Menu - There should be plenty of signage around for the event, but in case your server or host doesn't have a chance to present the Dine Tampa Bay menu options to you, be sure to ask for it by name!
Go With A Group - Make this a group/family event! This way you guys can sampled different options on the Dine Tampa Bay menu and share food with each other.
Drink and Be Merry - It's been a long week and you obviously want to unwind, so do so! Have a cocktail, or any non alcoholic beverage of your choice and just relax. Now of course, we want you to drink responsibly and get home safe, but just be sure to enjoy yourself! Please do note however that your Dine Tampa Bay menu does not include beverages of any kind.
Share Your Experiences - Whether its Facebook, Twitter, FourSquare, or Foodspotting, there are plenty of ways to share your experiences with your friends and family!
Tip Your Servers - These guys will be working hard fro you all night and through restaurant week, so be sure to show them the love!
Lastly, just enjoy yourselves and the company of friends and family! To check out more menus and get your Tampa Bay dining plan of action together, be sure to visit www.DineTampaBay.com!
Tampa Bay area events!