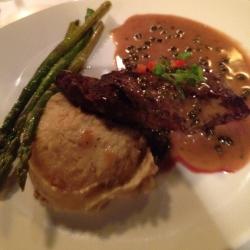 Hey there foodie fanatics! The time that we've all been dreading is almost upon us, as we are drawing near the end for Dine Tampa Bay Restaurant Week 2012!
For the past week and a half or so, diners all across the Tampa Bay area have feasted on prix fixed menus from some of the areas top restaurants and eateries... I know I have!
So much in fact, am already looking forward to next year's event so I can break my record set this year of dining out at 5 different restaurants!
But, before we head on to next year, I say we all go out with a bang this year and make sure we all get out to one of the over 130 restaurants before Saturday, and take pictures of those happy faces with our delicious food!
Feel free to share those photos with us on Facebook, Twitter, Food Spotting, or just email us at Info@DineTampaBay.com, and tell us where you dine.
For those of you Android and IPhone users, we even have an app for you, so that you may find your restaurant of choice! Even better than that is that you can be a dinner winner with Dine Tampa Bay when you enter our contest!
Well what are you waiting for exactly... start planning your restaurants by visiting www.DineTampaBay.com on your desktop or mobile device.
That's all for now, but stay tuned in for more foodie related Tampa Bay dining events!