Hey Tampa Bay, Jodi here with a new special offer from Busch Gardens. From now until September 6, 2010, your online Play & Dine ticket purchase entitles you to eat free all day! Just bring your eTicket to the Zagora Patio Bar to get your All Day Dining Deal Wristband.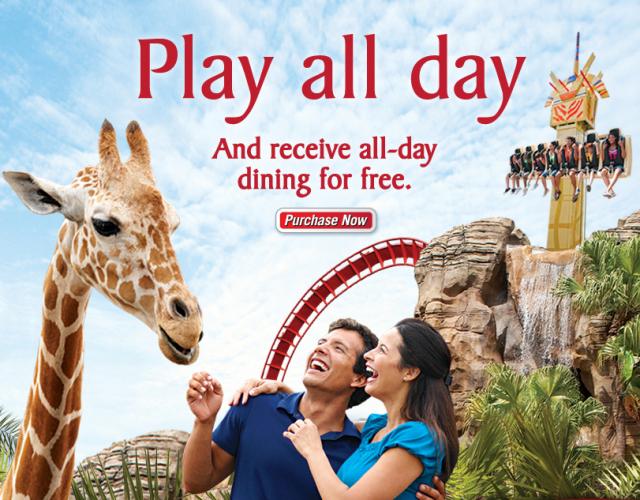 The Dining Deal gives you up to 1 Entrée Platter, 1 side item or dessert, and 1 fountain soft drink, iced tea or 20oz Aquafina water each time through the line. Children get Kids Meal entrees only.
You can use the dining deal at the Zagora Café, Crown Colony Pizza, Bengal Bistro, Garden Gate Café, Zambia Smokehouse (excludes Baby Back Ribs) and the Desert Grill (excludes Baby Back Ribs).
The Play & Dine ticket gives you a fun, convenient summer day. Your E-ticket lets you print at home and go straight to the turnstiles. The Dine feature makes eating stress free and easy on the wallet.
The only catch is that the Play & Dine ticket expires on September 30th so make sure to head to Busch Gardens soon to enjoy this special offer along with all the Summer Nights events.
The Play & Dine tickets are $74.95 for adults and $64.95 for kids ages 3-9. For more information head to
http://www.buschgardens.com/Bgt/CP/?page=PlayandDine
.
For more info on things to do in Tampa Bay, be sure to check out blog updates from me and the rest of the Tampa Bay team!