Hello folks! Jerm here with an update for you on our gorgeous Tampa Bay weather! And the update here is.... it's not snowing!!!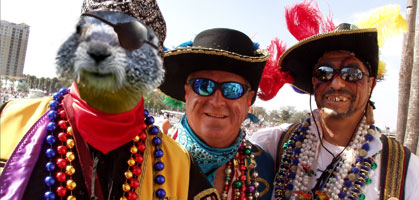 Today is the day that I am sure many of you outside of Florida have been anxiously waiting for as our friend Punxsutawney Phil emerged just after dawn on Groundhog Day to make his much anticipated annual weather prediction.

Now normally this event commands a big crowd, but with the frigid inclement weather conditions all around the country (except Florida) Phil made his long awaited appearance in front of a smaller-than-usual crowd who the harsh winter conditions to hear his handlers tell everyone that his shadow was no-where to be found.
Now I am sure those of you reading this and other reports about Phil's shadow, will be thinking that you just can't wait until spring and the thought of not having to snowplow out of your driveway and all, but I say... WHY WAIT! Come to Florida, in particular Tampa, where we have been experiencing much warmer temps and great weather as of late!

Phil even took some time out of his schedule recently to visit us in Florida and escape the cold temperatures of the north! Rumor has it, he even made it to the Seminole Hard Rock Gasparilla Pirate Festival this weekend!

So be sure to visit our website and check out some of the hotel deals we have going on and to refresh your memory of what sunlight looks like! You may even see phil make a trip back to us!