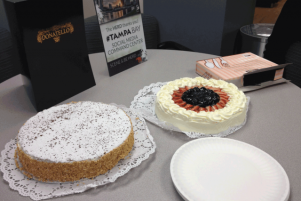 If you are looking for a great date night, Donatello's has the perfect venue. Donatello's has been in Tampa since 1984 and is a staple of Tampa.
Located on Dale Mabry, this Tampa gem serves up some of the most authentic Italian food in the area.
With both of the owners from Venice, Italy they have traveled the world to find the perfect combinations for their menu.
Tonight at the Social Media Command Center, we were delighted to have some delicious desserts from Donatello as you can see to the right! Believe me when I say that this riccotta cheese cake is beyond words it was so delicious. IF I were to take another picture of it now, it would be an empty shot, as we devoured this bad boy pretty quickly
Bringing in flavors from Rome, Florence and Venice they have some very unique entrees. In addition to a great menu Donatello's has the ability to host your next private dining event.
It doesn't matter the size of the gathering they are able to make your evening one of a kind. Check out all that Donatello's has to offer, and then make your reservations!
That's it for now, but be sure to stay tuned in for more updates on Tampa Bay dining!