The International Indian Film Academy (IIFA) announced earlier this year that fans of Indian Cinema could expect the 15th IIFA Celebrations to make its American debut in Tampa Bay, Florida in June 2014.
This week, key delegates from Visit Tampa Bay, including Santiago Corrada, President and Chief Executive Officer of Visit Tampa Bay, travelled to Mumbai and New Delhi to forge crucial ties before the big Weekend in June. Corrada and IIFA officials discussed a number of details ahead of IIFA's American debut, anticipating all of the special arrangements that will need to be addressed to host India's most celebrated business leaders and Bollywood's A-list.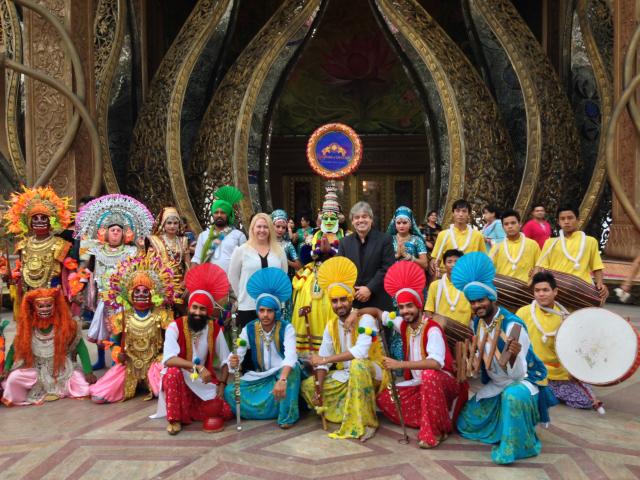 IIFA will host the 15th year of the Tata Motors IIFA Awards in Tampa Bay, Florida next year. With world-class infrastructure and facilities and having hosted a myriad of international concerts, events and the Super Bowl four times, Tampa Bay is the ideal choice for the 15th IIFA Weekend & Awards.
There has been an unprecedented excitement and buzz within the city of Tampa Bay and state of Florida following this announcement in July and we have been overwhelmed with the warmth and welcome shown by the people of Tampa for IIFA. 
According to IIFA, over the years IIFA has benefitted the host country or destination and the direct &  immediate economic benefit derived from delegate expenditure, creating direct and indirect employment, income and profit for business, taxes for government, cultural and professional exchanges, capacity building through access to international and national industry leaders, providing professional development and finally strengthening the positioning for the city, industry or country.
For more information on Tampa or IIFA visit our website - www.VisitTampaBay.com or www.iifa.com
ABOUT VISIT TAMPA BAY
Visit Tampa Bay leads the effort of economic development through tourism. The mission of Visit Tampa Bay is to create vibrant growth for the Tampa area by promoting, developing and expanding a united visitor industry. The independent not-for-profit organization represents more than 700 businesses throughout Tampa Bay and promotes the area as a choice destination for conventions and visitors.
ABOUT IIFA
Conceptualized and produced by Wizcraft International Entertainment Pvt. Ltd. and supported by the key members of the Indian film fraternity, IIFA is the most appreciated South Asian film academy. Also, the IIFA Awards is India's biggest media event. With a viewership of almost 600 million, it is among the world's most-watched annual entertainment events. From a one night celebration in 2000 at the Millennium Dome, London, the last thirteen years have seen the International Indian Film Academy (IIFA) movement grow into a cine-packed weekend of film-festivals, workshops, exhibitions, film-showcases, global business forums and sporting events, all of which climax into the highlight of the Weekend, the IIFA Awards. www.iifa.com