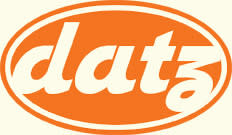 Hey Tampa! Kristin here to tell you about Tampa's one and only Datz, a specialty American gastro pub and market, conveniently located on South Macdill.  I would like to rave for a minute about how their exclusive cuisine is piled into one specialty sandwich.
I experienced the "Holy Guacamole Mezrah" loaded with turkey and avocado, definitely a healthy pick for those watching their waistline.
My other foodie assisting me devoured the "Havana Hottie," Datz specialty version of the ever so popular Cuban sandwich. We couldn't say no to a little comfort food of "itty bitty mac" homemade mac and cheese, hot with three cheeses over macaroni noodles, delicious! Not only do they have a unique selection of sandwiches they have a multitude of other types of entrees to choose from.
The ambiance of the restaurant was very unique and appealing to the couple on a date, a dinner party, or a family. Christmas lights hang from the ceiling rafters with booth and table seating available. Datz serves breakfast, brunch, lunch, and dinner, multiple menus to enjoy from. Stop in and try them out, I can guarantee it will become a staple on your restaurant list. For more information go to www.datztampa.com,
That's all for now folks, but be sure to stay tuned in for more updates on Tampa Bay dining, and be sure to check out the Datz menu for yourselves and start planning that meal!