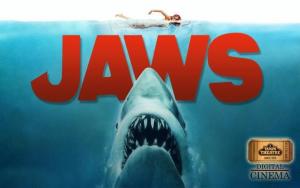 Celebrate Shark Week 2013 with the Tampa Theatre! On Sunday, August 4 at 3 p.m., the Tampa Theatre will be showing Jaws as part of their Summer Classics series. This year the Tampa Theatre asked friends and fans to pick one of the Summer Classics films, and over 280 titles were nominated, but Jaws was the winner.
On the off chance that you aren't already familiar with the movie, here's a synopsis: When a gigantic great white shark threatens the small island community of Amity, Sheriff Martin Brody (Roy Scheider), marine scientist Matt Hooper (Richard Dreyfuss) and grizzle local shark-hunter Quint (Robert Shaw) set out to stop it. But first… they're going to need a bigger boat.
Jaws is 2 hours and 4 minutes long. It is rated PG.
Tickets for the Summer Classics movie series are $9 for adults and $7 for Tampa Theatre members at the box office or online at www.TampaTheatre.org ($2 convenience fee applies). The series is presented with media sponsorship by WEDU and Senior Voice America.