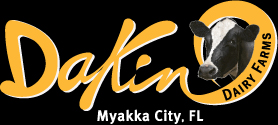 Hi everyone!  Travis back with more exciting things to do in Tampa Bay!  I have something to tell you about that I'm sure many (or even most) of you have not tried! 
You can "Get Lost" in The Corn Maze from now until Mid-January!  That's right, you can try to navigate a corn maze to see how good you really are at solving puzzles.  I have a feeling it may be a bit different if you are part of the puzzle!!!!
But that's not it...there's much more! 
Tour the Dairy & learn how milk is produced on our sustainable farm and the benefits of "Fresh Grass" in their cow's diet, then have an ice cold glass of milk and "Taste the Difference".
Then, take a hayride, ride the cow train, feed the goats, watch the pigs race, crawl through the hay tunnel and more. Roast hot dogs or s'mores over the camp fire and have some ice cream in the Farm Market where you can purchase some "Farm Fresh" Ice Cold Milk, Florida grown, canned & crafted items!
If you want more information, just visit www.DakinDairyFarms.com.  This is a great way to spend an exciting afternoon, so make your plans now! 
And keep checking back for more Tampa Bay area events and Tampa Bay entertainment options for the holidays.