Hello gang, Jerm here and just wanted to let you know about a cool vacation planning tool we are featured in that recently launched!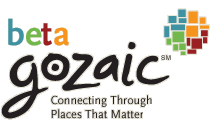 Gozaic is a new and interesting way for you to plan life-enriching travel and join a community that shares the passion that you have for experiencing culture and heritage. Feel free on the GoZaic site to build your own custom itineraries exploring sites with stories to tell.
Book guided tours to destinations rich in culture. Share your photos and reviews with others.
Tampa Bay is one of many
featured destinations
on the site, so hop on there and check us out and all that there is to do here. From shopping in Tampa Bay, to all of the historical and cultural options, there is plenty to choose from.
Thats all for now, so stay tuned for more vacation planning tools and things to do in Tampa Bay!