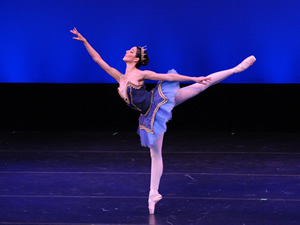 Lisa here (trying to phase out Travis...just kidding), giving Travis a much deserved break from blogging, to update you about Arts and Culture in Tampa Bay.
Our very own
Patel Conservatory
won a total of 19 awards at the semi-final Youth America Grand Prix (YAGP) competition October 22-24th. One award was given to Peter Stark, chair of the Patel Conservatory's dance department, for "Outstanding Teacher."
The YAGP was founded in 1999 by two former Bolshoi Ballet dancers, Larissa and Gennadi Saveliev. It is the world's largest student ballet competition. YAGP is conducted annually throughout the United States, Brazil, Mexico, Japan, and France.
The award winners of this years YAGP include Hannah Beach who was the overall "grand Prix" winner; Drew Nelson who won a first and second place award; Hannah Bettes who won a first, second and was in two different top 12's; Ethan Fuller who won a first, second and finished in a top 12; Daniel Cooke who won a third place; William Dugan who won a third place and finished in a top 12; Caitlin Birt who finished in a top 12; Gabrielle Beach who finished in a top 12 and Erica Loper who finished in a top 12. That is a lot of awards! Congratulations to all!
Not only did the students and teacher win awards, but the Patel Conservatory won first place in the pas de deux category with Nelson Bettes dancing the wedding duet from the ballet
Coppelia
.
Nelson, Bettes, Cooke, Birt, Beach, and Fuller all qualified for the next round of YAGP in New York in March 2011. Way to go!
Sounds like the Patel Conservatory is really doing a lot for Tampa Bay, and if you want in on the action they do offer
classes
for children and adults of all skill levels.
That's all for now, but stay tuned for more Tampa Florida News Updates!