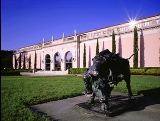 One of our wonderful partners,
The John and Mable Ringling Museum of Art
, was recently featured in
The New York Times
' Museums Special Section for being "one of the most significant museums in America" according to George Wachter, co-chairman of Old Master Paintings Worldwide at Sotheby's.  The founder of this gorgeous museum, John Ringling, was one of five brothers who founded the Ringling Bros. Circus - you learn something new every day, huh? 
John and his wife, Mable, always had a love for the arts and collected many pieces over the years.  The Ringling's left the museum and their estate in Sarasota to the state to run along with over 1 million.  The estate began detoriating and was eventually shut down.  The state the decided to allow Florida State University to handle the museum.  The museum is extremely well-known across the country and has a great collection of art.  
Weddings, corporate events and private parties are huge at The Ringling.  I have 3 friends who have been married there and have another wedding at The Ringling in June.  Can't wait to re-visit!  It's the perfect setting for private events.  Be sure to visit if you're in the area - it's only 40 minutes from Tampa, which is great! 
Stay tuned for more info on arts and culture in Tampa Bay!