Hi everyone.  Travis here with a piece of information and a huge congrats to give to someone who has become a symbol of Tampa Bay's hospitality industry.  Antonio de Sousa with the Hyatt Regency Hotel in downtown Tampa has been recognized by the Wall Street Journal for his dedication and passion to his job.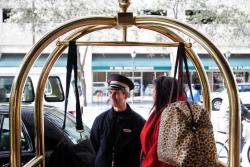 In yesterday's print edition of the Wall Street Journal, and in the online version of the publication, they recognized de Sousa for going 26 years on the job without a sick day.  Yes, 26 YEARS!!!  First and foremost, congrats Antonio! Second thanks for your dedication. 
And if you haven't had the pleasure or running in to Antonio, just stop by to say hi.  He's always got a smile on his face and never hesitates to help someone out. 
Here's part of the story:
 When Antonio de Sousa's car broke down on the way to work, calling a tow truck didn't enter his mind.
 Instead, he left the car beside the highway and ran five miles through downtown Tampa, Fla., to get to his job as a doorman at the Hyatt Regency hotel. "I was all sweaty, but I made it on  time, at exactly 3 o'clock," he says. That sprint years ago kept him on track toward his current record: 26 years of perfect attendance.
 It may be hard to believe in an era of floods, flu epidemics and flexible schedules, but some people haven't missed a day of work in decades. They buck up when feeling ill and schedule events  and activities around weekends and vacation days. They say, of course, that they keep coming for one reason: They love their jobs. Some own up, too, that streaks are just irresistible.
The story goes on to say:
 Mr. de Sousa's co-workers have accused him of timing the birth of his two children, Natalie and John, around his job. Both were born on his regular day off at the time, Monday. He celebrated  the births and headed back to work at 3 p.m. on Tuesday, as scheduled. Even he acknowledges it was "kind of weird." He adds, "It was a coincidence." He and his wife Diane, a bookstore  employee, have since helped put Natalie, now 21, and John, 23, through college.
If you want to read the full story, visit: http://online.wsj.com/article/SB10001424052970204062704577223211905610938.html?KEYWORDS=antonio+de+sousa
Again, congratulations Antonio and thank you for all you do!!!
We'll see everyone back here for more Tampa Bay tourism updates, as well as info on other great things to do in Tampa Bay!!!