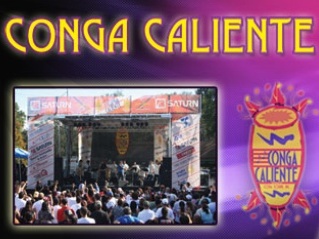 Hey everyone.  Travis back with more Tampa Bay area events for you to enjoy.  If you've never been out to Conga Caliente, make sure you change that this year.  It's not that far away, so take a look at the details -
On November 7, Conga Caliente, Tampa's premiere Hispanic festival, will celebrate its 7th anniversary with a day of excitement, education and fun for all ages. This fall festival celebrates Hispanic arts, customs and traditions from around the world. At Conga Caliente, you are sure to find performers from Puerto Rican, Columbian, Cuban, Panamanian, Venezuelan, Spanish or Dominican and other backgrounds that are nationally and internationally recognized.
This FREE ADMISSION event will be held at Tampa's Al Lopez Park, from 11 a.m. - 6 p.m. FREE parking is located directly across the street at Raymond James stadium. 
Have you noticed that I have said FREE twice...listen up! 
 
Conga Caliente ranks as one of Tampa's top five community events and is recognized as one of the most celebrated Hispanic themed festivals in the Central and West parts of Florida.
 
On festival day, Conga Caliente transforms Al Lopez Park into a small city surrounded by villages of diverse interest. The festival brings entertainment, excitement and information for all in one location. "There is entertainment for everyone. Many come for the performers but stay all day visiting the exhibits," said Maritza Astorquiza, producer of Conga Caliente.
 
The festival includes an art village made up of work from local artist; an extensive youth area which includes entertainment from Radio Disney; a health village, sponsored by Blue Cross Blue Shield of Florida; a corporate village; educational displays; a domino area which will host tournaments throughout the day; a cigar area; prizes and giveaways; tasty, traditional ethic foods and a beer garden sponsored by Budweiser.
 
State Farm, Conga Caliente's presenting sponsor, will host the domino tournament in their pavilion. Registration from the tournament begins at 11 a.m. Conga Caliente players will be competing for a $500 prize!
Here's a bit of history about the event, for those who are interested:  Conga Caliente was created in 2004 by Coda Sound Inc. Originally, this event was intended to be a onetime festival; however, after 20,000 people attended the first Conga Caliente, this festival became an expected event by the public. Since 2004, daily attendance is approximately 35,000 people. Each year, this festival grows leaps and bounds. Now celebrating its 7th anniversary, this annual event, Conga Caliente is here to stay!
 
Like I said, make your plans to be there because it's going to be a great time.  And keep checking back here for more great Tampa Bay Entertainment plans and things to do in Tampa Bay.