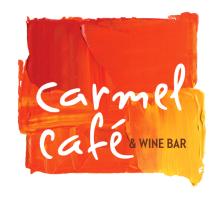 Happy Friday! Katy here with some exciting news about one of Tampa's newest restaurants.
Carmel Café & Wine Bar
in Carrollwood will start offering their popular Mod Med (modern Meditteranean) style cuisine for lunch starting November 8.
Lunch will be served Tuesdays through Fridays from 11:30 a.m. until 2:00 p.m. The menu will include a variety of sandwiches, salads, flatbreads, soups, desserts and more with everything priced for less than $10...what a deal!
Love ordering off the iPads when you dine at Carmel Café & Wine Bar for dinner? Well, you are in luck because you will be able to order from them for lunch as well!
Carmel Café & Wine Bar is also open for dinner every night except for Mondays. If you have not yet had a chance to dine at Carmel Café & Wine Bar, I strongly recommend you give it a try!
For more information go to
www.carmelcafe.com
or call 813-265-1415. Stay tuned in for more Tampa Bay dining updates!