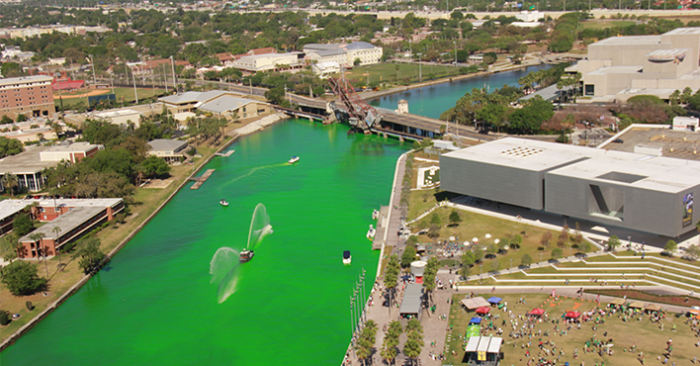 We're painting the town green this weekend for St. Patrick's Day. If you're planning to get your Irish on, here are a few ways to do it.
Mayor's River O'Green Festival (11 a.m. - 4 p.m. Saturday)
The luck of the Irish takes over downtown with a family-friendly St. Patrick's Day festival in Curtis Hixon Waterfront Park. There'll be local Irish dancing, kids activities and local food vendors. The beer will be green. So will the Hillsborough River. In the spirit of St. Patrick, the city will collect food to help the Salvation Army carry out its mission of helping the needy. A tent at the park will be set aside for food donations.
Paddyfest (Saturday - Tuesday)
Irish 31 Pub & Eatery will hold its third St. Patrick's Day celebration at locations in Hyde Park, Westchase and Channelside. The party will run from March 14 through March 17, so pace yourself. This year, Irish 31 will team up with newly opened Ferg's LIVE across from the Amalie Arena to celebrate with a Kids Zone from Noon to 5 p.m. Sunday and a Cornhole tournament starting at 1 p.m. You can sweat out Saturday's overindulgence during the Blarney Bike Ride between Irish 31 and Ferg's LIVE at 1 p.m. Sunday. Riders get a free ticket to the March 17 St. Patrick's Day bash at Ferg's LIVE. Stop by Irish 31 in Hyde Park or Westchase before Friday for a Paddyfest 2015 stick-on tattoo and a chance to win four tickets to Paddyfest and $200.
Gaspar's Grotto (8 p.m. Saturday)
Ybor City's notorious pirate bar holds its Funniest Irish Costume or T-shirt contest. Winner will find an ounce of real gold under their rainbow. 8 p.m. Saturday.
St. Practice Day Pub Crawl (8 p.m. Saturday)
MacDinton's, SoHo's landmark Irish pub, joins its neighbors in a St. Patrick's Day pub crawl three days before the official holiday.Tickets get you into SoHo Tavern, MacDinton's, The Lodge and The Drynk. While you're recovering on Sunday, have a little hair of the dog with your own dog at MacDinton's St. Puppies Day party. Yappy Hour starts at 4 p.m. and benefits the effort to build a South Tampa dog park.
Rough Riders St. Patrick's Day Parade (8 p.m. Saturday)
After spending the afternoon at the Mayor's River O' Green, join the crowds on Seventh Avenue in Ybor City for the annual Rough Riders St. Patrick's Day parade. Teddy Roosevelt slept here on his way to San Juan Hill during the Spanish-American War, and Tampa's Rough Riders community group keeps the memory of TR alive through its good works. Those who want to get a jump on St. Paddy's Day, can join the Rough Riders on their Trolley Hop restaurant crawl through Ybor City from 6 p.m. to midnight on Friday.