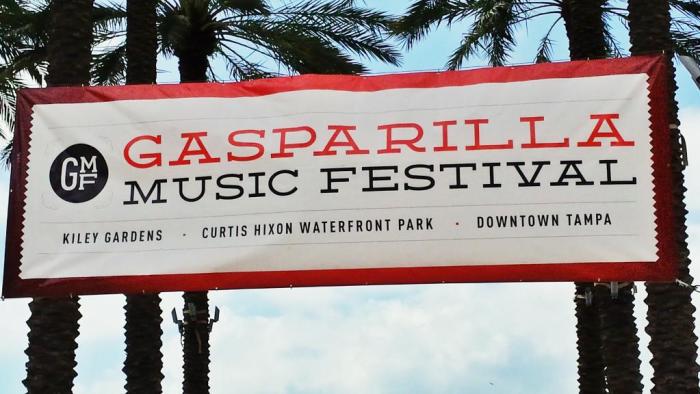 Tampa Bay's Gasparilla Season hits its stride this weekend when the Gasparilla Music Festival rolls into downtown's Curtis Hixon Waterfront Park and Kiley Gardens.
If you planning to go or still thinking about it, here's what you need to know:
Tickets
First, the Bad News: Saturday's event, headlined by Seattle-based Modest Mouse, is sold out for both general admission and VIP tickets.
Now, the Good News: You can still get two-day passes that will cover both Saturday and Sunday, VIP and general admission for Sunday. Get them before they're all gone.
Your ticket will get you a wrist band when you first enter the festival that lets you come and go as you please over the course of each day. If you're got a two-day pass, plan on sleeping with that wrist band.
Parking
There'll be no shuttle system from Tampa Heights as there was last year. This year, plan on taking advantage of the city's existing parking.
Lucky for you, downtown is chock-a-block with parking. The city's Poe garage is just steps from the festival gates, but it's also very popular with the families that visit the Glazer Children's Museum and anyone hitting the opening day of the Tampa Museum of Art's Normal Rockwell exhibit. So you might want to try the Fort Brooke garage, which is a short walk, or the Twiggs garage, which is about five blocks away. There's also metered on-street parking -- if you're going to be around for less than two hours (and why would you do that?) -- and private lots scattered throughout downtown. Just don't forget where you left your car.
Better yet, avoid parking altogether and take a water taxi up the Hillsborough River to the festival.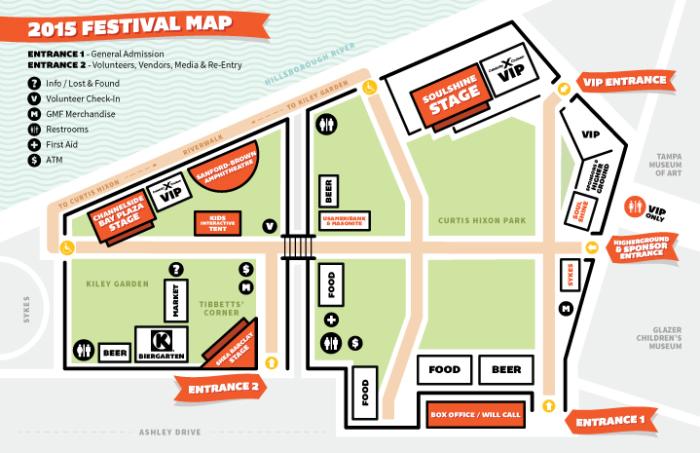 Venue
The festival has four stages spread across two parks. The main Soulshine stage stands in the southwest corner of Curtis Hixon Waterfront Park with the minarets of the University of Tampa's Plant Hall as a backdrop. The secondary stage, the Channelside Bay Plaza stage, stands in the southwest corner of Kiley Gardens in the shadow of Rivergate Tower. When those stages are between shows, look for performances at the Kiley Gardens amphitheatre and Tibbet's Corner in the northeast corner of Kiley Gardens.
There are general admission entrances at on the Ashley Drive sides of both Kiley Gardens and Curtis Hixon Waterfront Park.
VIP entrance is between Tampa Museum of Art and the Glazer Children's Museum.
Disabled visitors will have a drop-off in Gasparilla Plaza behind the museums. Parking is available in the Poe garage. Anyone needing help should contact festival organizers.
Food & Drink
Tampa Bay's local foodie scene will hit its groove at the music festival. From downtown's Holy Hog BBQ to Seminole Heights' Refinery to Ybor City's Carmine's and South Tampa's Pipo's Cafe, Tampa Bay's good eats will be with easy reach. Even the guy who runs the Hot Donut Cart outside City Hall will get in on the music festival action. You'll find loads of Tampa Flavors as well -- Cuban sandwiches, grouper sandwiches and stinky bunz to name but a few. Check out the roster of restaurants.
The same goes for adult beverages, with Cigar City Brewing Co. leading the list of beer and spirits vendors.
GMF Kids Fest
Gasparilla Music Festival welcomes families of all types. Kiley Gardens will host musical acts that will have the kiddies up and dancing during the day on Saturday and Sunday. The Kids Interactive Zone in Kiley Gardens will keep them busy from 11 a.m. to 2 p.m. They'll be asleep before you get home.
The Lineup
The list is impressive and way too long to list here. There's something for everyone: gospel, rock, funk, Latin, even something called Yoga Rhythm Lounge on Sunday morning. So pace yourself.
Chances are, you either know what you're coming for already or will stick around for everything anyway. The short version: Modest Mouse headlines on  Saturday, taking the stage at 9:30 p.m. Sunday's headliner is Gogol Bordello, which takes the stage at 5:30 p.m. Special for Sunday is Laritza Ballacao y Su Grupo, who have come from Havana, Cuba, to play this year's festival. They'll be on the Channelside Bay Plaza stage at 4:45 p.m.