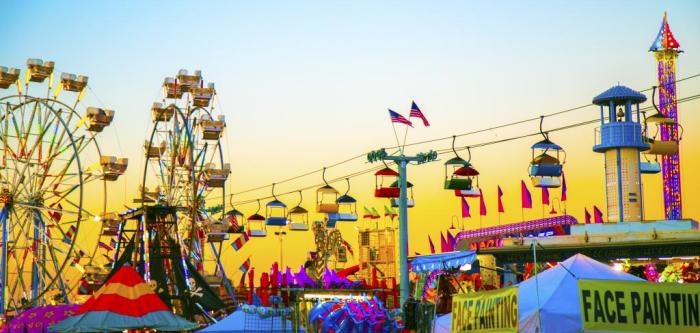 It's time for the Ides of February, as in rides and deep-frieds.
The Florida State Fair has returned to its home in Tampa Bay. It'll be at the Florida State Fairgrounds just east of town through Feb. 16, so don't miss your chance to get your piece of the sprawling festival -- from the thrill rides to the livestock shows to the foods that routinely push the limits of a deep-fryer.
Fair admission is free on the first and last days (Feb. 5 and Feb. 16) for active, reserve and veteran members of the military as well as first responders such as law enforcement officers and firefighters.
Before you get to the gate, get yourself a game plan. That's what we're here for.
Tickets
Buy them at the gate.
Also, you'll need a map.
Armbands
The fair has dropped paper tickets to ride in favor of a credit card-style pass. If you're planning to test your courage (and maybe your stomach) by riding everything that moves, an armband is probably your best choice.  An Any Day armband ($35 at the gate) sets you up to all day on weekends and after 3 p.m. on week days. The Super Saver armband ($25 at the gate) is good for ride after 5 p.m. on the day you buy it.

Rides
Take your courage along, because your stomach will be waiting for you on the ground when you climb aboard this year's new State Fair rides.
Making its debut at this year's fair, the Observation Tower sends covered gondolas up 80 feet then rotates them to give riders a view of the whole sprawling festival.
The Delusion – It's a tower. That launches. And spins – fast. You'll feel weightless for a few seconds. I feel a little light-headed just typing this.
Disk 'O puts you on a motorcycle-style seat then runs you along a U-shaped track rollercoaster-style all while you're rocking and spinning.
The 65-foot-high Frenzy is a pendulum ride that swings 80 feet from side to side. We're all about the G-forces, baby.

Food
The day someone figures out how to deep-fry a carnival ride, the state fair experience will collapse into itself like a black hole. Until then you'll have to keep your rides and your frieds separate, as the state fair gods intended. What's on the menu at this year's state fair? I promise you, it'll be good. And I promise not to tell your cardiologist.
How many ways can you make a cheeseburger? Let us count the ways:
Jalapeño-crusted: twice-fried and coated with corn chips and pepper mix, then topped with shredded cheese, sour cream, salsa and guac.
Parmesan-crusted: The winner of the people-choice burger vote, it's an Italian version of the jalapeño one, but with potato chips and parmesan cheese, bacon and parmesan-mayonnaise sauce.
Funnel caked: Who needs a bun? The classic fair fried-dough staple is bread too, when you get right down to it. Put one on either side of a burger, add bacon, lettuce, tomato and a pickle and you're ready to go!
There's also the cronut, everyone's favorite hybrid pastry that combines the best of a donut and croissant.
And, of course, there are the standard fair foods – funnel cake, deep-fried oreos, corndogs and the like.

Music
Three words: Charlie Daniels Band. Because some of us (ahem) still know every word to "The Devil Went Down to Georgia." Charlie the guys close the fair Feb. 16. Country Gold brings together seven Country Music artists for two days of shows Feb. 10 and 11. Moe Bandy and Johnny Lee are just two of them.
If country's not your thing, Mix Jam! Brings out rap artists Bizzle and Andy Mineo for free shows Feb. 6. Beatlemania Live! will have you singing along to "Hey, Jude" during their free concert Feb. 14. Don't miss the Elvis Extravaganza that same day.

Everything else
The beauty contestants at the state fair travel with their own entourages dedicated to meeting their every need. They have long lashes, and most have four legs. You'll find them in the livestock barns.
The fair is filled with artists, craftsmen and kids' activities. There's no shortage of things to do!