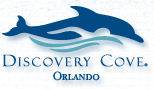 Lisa back, with a fun idea for a weekend getaway.
How many of you out there have been to Orlando? Ok, most of you. How many of you have been to Sea World? Again, most of you. And how many of you knew about a place where you can swim with dolphins, go snorkeling with rays and tropical fish, and feed exotic birds? Probably not as many. Well listen closely because this is one of the coolest things in our own backyard (well Orlando's backyard, but they are our neighbors so it's close enough).
Discovery Cove
is an all-inclusive tropical getaway and the only place to experience the most exciting animal encounters the world has to offer. This exclusive resort is only a hop, skip, and a jump away from us in Tampa. With a
regular ticket
to Discovery cove you get to snorkel with rays, tropical fish, and feed exotic birds. A continental breakfast, lunch, unlimited snacks and drinks, and unlimited admission to Sea World through December 31st. Also, to complete your vacation (or staycation) package, admission to Sea World, Busch Gardens Tampa Bay, or Aquatica is included for up to 14-consecutive days. Upgrades are also available, and they include swimming with a dolphin!

There are also beaches, a winding river to float down, lockers to store your belongings, snorkel gear, and changing rooms. It is recommended to bring a dry change of clothes. Check their website for a complete list of
recommendations.
Attendance is limited to 1,000 people a day to avoid over crowding, and to maintain a high level of customer service. So be sure to plan ahead if you want to visit during busy season. Discovery Cove looks amazing enough I might just have to take a trip out there myself!
That's all for now Tampa! But stay tuned for more Tampa Florida News Updates...ok or maybe an Orlando update.