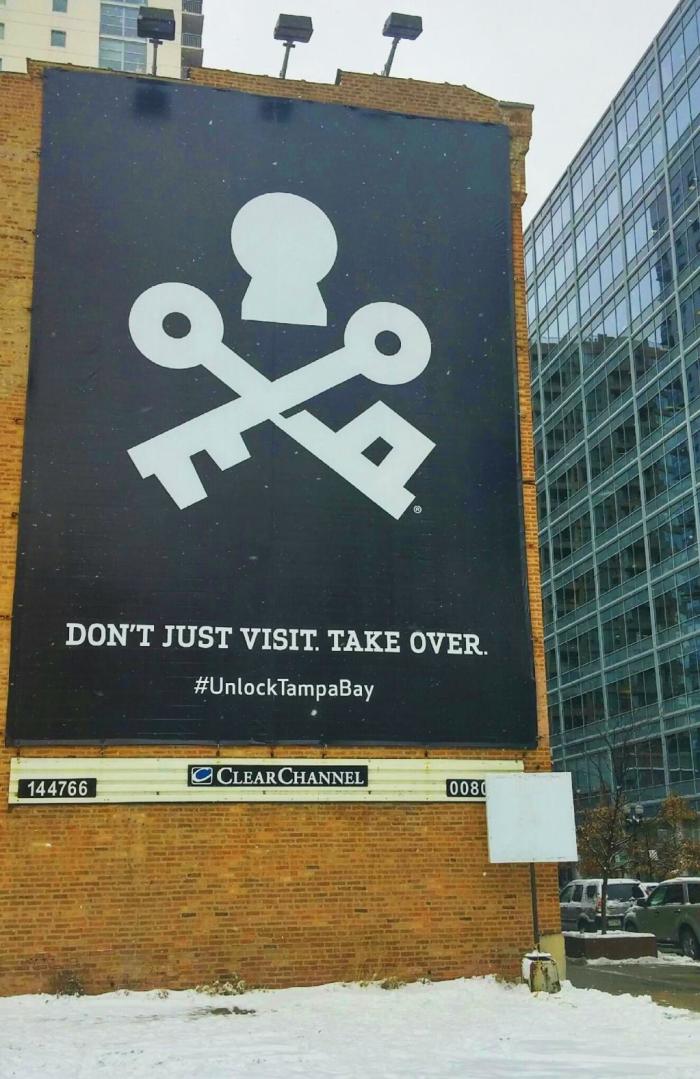 The giant black banners that hang on the walls of buildings in the heart of Chicago tell a pretty simple story: "Don't just visit. Take over."
Visit Tampa Bay's awesome logo -- a keyhole and crossed keys, suggesting a treasure chest (and maybe a certain type of person who buries treasure chests) -- is in white, bigger than life.
We're reaching out, Chicago. Come on, you know you want to visit Tampa Bay.
The coldest day in Tampa Bay is balmy by comparison to a January day -- the kind of day your can feel your nose hairs freeze when you walk outside. (I know. I lived there.)
The salt. The sand. The black ice. The lake-effect snow.
The only salt we have around here is on our margarita glass.
And sand? Well, we both know what we do with sand down here.
As for ice and snow, those are reserved for cream and cones here in Tampa Bay.
Psst -- flights come right to Tampa International Airport every day.
So go on. Drive down to Chicago and Wells. Get out of your car next to the Dunkin' Donuts. Step through the black-crusted snow. Look up at the big black banner hanging from the wall and dream.
Dream of riding a shiny blue Coast Bike Share two-wheeler along the Tampa Riverwalk.
Dream of oysters at Ulele and pumpkin pancakes at Oxford Exchange.
Don't have a car? We've got you covered. Actually, we've got the Randolph and LaSalle Metra stations covered in February. Wall to wall.
Try a little video sampling of the gems we've got in store.
We're here for you, Chicago.