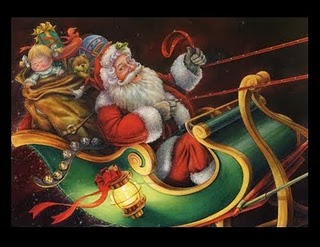 Ring tin tingling too. Come on it's lovely weather for a sleigh ride together with you. This is one of the most recognize-able Christmas tunes out there (and I hope it is now running through your head!), and I am here to tell you about an event that involves Santa and a Sleigh.
Hey Tampa, it's Lisa here with a really fun way to help those less fortunate this Holiday Season. The 10th Annual Santa Sleigh Ride will take place Sunday, December 12th at 3pm. Jeanne Lavettre the owner of Serendipity, and her sister Eileen Goldberg have teamed with Deborah Cock, Dennis Cavanaugh, and many others to decorate a truck and a sleigh that will ride through Davis Island on the 12th.
Now why on earth are they doing this!? They are collecting unwrapped toys for kids in need, and this year because of an increased need they are also collecting canned goods. The goal this year is 2,000 toys and 5,000 canned goods! They won't be doing this alone though, the South Tampa Community News is teaming up with the Davis Island Chamber of Commerce  and other business owners to make this an afternoon to remember! The entire event lasts from noon to 6pm.
To give you an idea of what they need I have a few items from the list: canned meats, peanut butter in plastic jars, non-fat dry milk, canned fruits, veggies, and juices, pasta, rice, oatmeal, cereal, spaghetti sauce with meat, canned soups and canned chili. Non-perishable items in cans or plastic only please! Anything that you can bring will be appreciated.
Feeding America Tampa Bay
is partners with over 600 charities and churches in West Central Florida. Through this network they distribute over 250,000 meals each week! This group helps the working poor who struggle to get by, the disabled no longer able to work, and those who simply are finding the road back from hard times.
This Sleigh ride will be at 27 different location in the Davis Islands area, so I'm sure it won't be hard to find!  What a great way to help out this year!
That's it Tampa, but stay tuned for more Tampa Bay Area Events, and Tampa Florida News Updates!