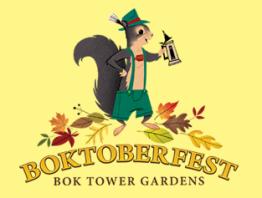 Lisa here, with an update on what to do in Tampa Bay! The Bok Tower Gardens is hosting their second annual Boktoberfest. It is an Oktoberfest themed celebration to kick off the start of Florida's gardening season. Now I'm not much of a green thumb, but this event sounds really cool.
I guess for you to agree, you're going to need some details! So here they are. The event starts at 8am and runs until 7pm, giving you plenty of time to enjoy the day.
Like I may have mentioned before, it is FREE to get in. There will be live music (a 4 person lederhosen ensemble), German food (yum), craft beers (major yum), tree climbing and the all new pumpkin patch for kids.
The pumpkin patch is $5 per child, but it is full of activities, and totally worth the small admission price. The tree climbing also costs a little bit to get in, but looks like so much fun! They have a bit of everything, which makes this a great family event.
Part of the Boktoberfest fun, is a plant sale. There will be orchids, palms, trees, tropical fruits, Florida natives, ferns, bamboo, roses, heliconias, bromeliads, tillandsia air plants and water lilies (I may have to stick with the air plants). To help you learn more about these exotic plants, there will also be educational workshops going on throughout the day.
Bok Tower Gardens have been around since 1929 and were voted "Florida's Best Garden." It sits on 700 acres of conservation lands and gardens. They are located in Lake Wales. So come enjoy some Arts and Culture in Tampa bay, and get some new plants at the Boktoberfest celebration this Saturday October 16th!
Signing off for now, but stay tuned for more Tampa Bay Area Events.