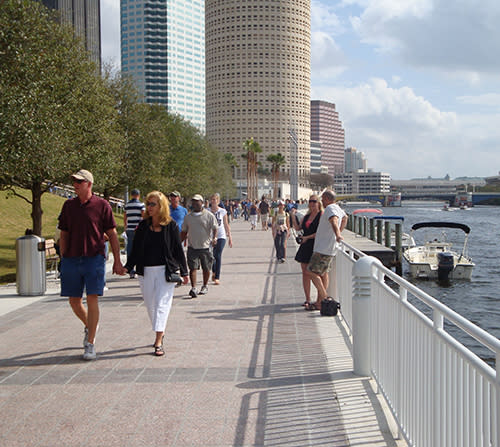 Come out to celebrate Tampa Bay's newest attraction, the Tampa Riverwalk.
Forty years in the making, the Riverwalk opened its last major segment last month, creating an unbroken 2.5-mile pedestrian path linking some of the areas top attractions like gems on a string.
On May 2 and 3, Riverfest -- the city's newest annual event -- will turn the waterfront destination into one big party, with events spread its entire length, from the Tampa Bay History Center to Water Works Park.
The party will coincide on Saturday with the Mayor's Mac 'n' Cheese Throwdown, a comfort food cook-off in Curtis Hixon Waterfront Park.
Here's what Mayor Bob Buckhorn has to say about the overlapping parties: 
"All of the pieces are in place for us to finally be able to truly take advantage of our riverfront – the cultural assets, the parks and public spaces, and of course, the Riverwalk that connects it all. Riverfest is more than a weekend of events and activities; it's a celebration of the transformation of our downtown and our best natural asset, the Hillsborough River," said Mayor Bob Buckhorn. "Mac and cheese is comfort food at its best, and I'm looking forward to seeing what our local eateries will cook up for the Throwdown this year."
Riverfest will include events and activities at the Straz Center for the Performing Arts, Tampa Convention Center, and The Florida Aquarium as well as in the city parks strung along the path. The Tampa Museum of Art, Florida Museum of Photographic Arts, and Tampa Bay History Center (children only) will all feature free admission on Saturday.
The Plank pop-up bar, which appeared briefly to celebrate the opening of the new Kennedy Boulevard Plaza segment, will make another appearance, this time at MacDill Park.
The Mayor's Mac n' Cheese Throwdown will anchor the events on Saturday. Tasting will be available from 4 p.m. to 7 p.m., as supplies last. The RiverFest concert, which will kick-off with headliner G. Love & Special Sauce beginning at 7 p.m.  The evening's festivities will culminate with fireworks at 10:30 p.m.
"The opening of Kennedy Plaza has been a game changer for the Riverwalk, connecting the cultural assets, the parks and public spaces along the waterfront.  RiverFest is the first opportunity to celebrate Tampa's new Riverwalk," said Shaun Drinkard, Executive Director of Friends of the Riverwalk.
Riverfest will raise money for Friends of the Riverwalk, a local nonprofit that works to improve and enhance the Tampa Riverwalk in a variety of ways, including events and programs.
Here's a run-down of what's on tap for Riverfest.
Water Works Park, Historic Tampa Heights
Saturday– Jazz on the Riverwalk (11 a.m. -4 p.m.)
Straz Center, Downtown Tampa
Saturday / Sunday – String Theory's Fin Harp (11:30 a.m. -5p.m.)
Curtis Hixon Waterfront Park, Downtown Tampa
Saturday - Mayor's Mac & Cheese Throwdown (4 p.m. -11 p.m.)
Saturday – Tampa Museum of Art: Day of Poseidon & FREE admission
Saturday – Florida Museum of Photographic Arts: FREE admission
Sunday – Bloody Mary Festival presented by Big City Events (11 a.m. - 4 p.m.)
Kennedy Plaza, Downtown Tampa
Saturday / Sunday – Roaming musicians, artist and food vendors
MacDill Park, Downtown Tampa
Saturday - Big Brothers Big Sisters Day Out with free children's activities (9 a.m.- 5 p.m.)
Saturday - Hillsborough County School System Stage featuring artists from 43 local schools
Saturday / Sunday – The Plank "pop-up bar" returns
USF / Anchor Park, Downtown Tampa
Saturday - Hillsborough County School System Stage featuring artists from 43 local schools
Saturday – ASPCA Activities (9 a.m.-2 p.m.)
Tampa Convention Center & Sail Pavilion, Downtown Tampa
Saturday - Tampa Bay Sports Commission Paddle Board Competition (TBD)
Cotanchobee Park, Downtown Tampa
Saturday / Sunday – RiverFest Downtown Carnival presented by Big City Events (10 a.m.-10 p.m. & 10 a.m.-6 p.m.)
Saturday – Tampa Bay History Center: FREE children's admission
Florida Aquarium, Channel District
Saturday – The Penguin Waddle (8 a.m.)
Sunday – Cigar City River Run (10 a.m.)