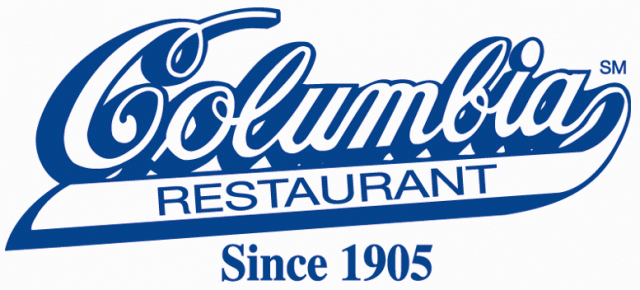 Hey everyone.  Travis back with some really cool news...The Columbia Restaurant of Ybor City was named an  All-American Icon by Nation's Restaurant News.  Ok, before we go on, let's all give a huge round of applause to the Columbia!!!!!!!!!
Ok, here are the details that we received -
Nation's Restaurant News created their list of fifty All-American Icon restaurants "As a testament to the large number of restaurants that have persevered through the years and continue to be part of our social fabric."  
In compiling the list, Nation's Restaurant News sought to highlight longtime concepts that are not only intriguing, but also offer a broad representation of industry segments, foods and locales.  They looked for concepts that reflect the industry's limitless entrepreneurialism and tell the stories of the communities that these restaurants have enriched. 
The Columbia Restaurant of Ybor City was founded in 1905 and is the oldest restaurant in Florida. All Columbia locations are owned and operated by 4th and 5th generation members of the founding family.
The magazine also strove to give insight into the allure of the concept, the food, personalities and lore that keep customers coming back decade after decade.  Other Florida restaurants named to this list of All-American Icons include Bern's Steak House in Tampa, and Joe's Stone Crab in Miami.
According to the magazine, "No other institution in Tampa is as entwined with the city's history."  "Columbia offers classics such as the "1905" Salad –450 are served daily; more than 164,000 annually – or chicken and yellow rice or snapper.  But The Columbia's cuisine is diverse and can be described even as fusion because its home base in Ybor City has Spanish, Italian and Cuban roots."
Nation's Restaurant News says, "The Columbia is far from fading, with six other Florida locations in St. Armands Circle on Sarasota; Historic District of St. Augustine, The Pier in St. Petersburg; Sand Key in Clearwater Beach; Downtown Celebration; and The Columbia Café at the Tampa Bay History Center in Channelside."
And there you have it.  Not that you needed it, but here's another reason to get out and go eat dinner at the Columbia!  So have fun! 
And we'll see you back here for more news, as well as great things to do in Tampa Bay, cool Tampa Bay area events, and much much more.