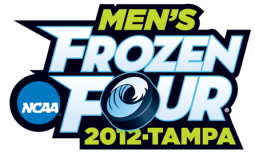 Hey There College Hockey Fans, and happy Friday! Less than a week remains until the puck drops, so at this point I hope you guys are out shopping for bathing suits and sun tan lotion before you embark on your Tampa Bay journey to the NCAA Men's Frozen Four Hockey National Championships in Tampa Bay!
At present, the weather is a nice 73 degrees and excitement within the Tampa Bay community is building up big time! One of the great things going on for fans upon arrival are the fan headquarters for each team in Channelside Bay Plaza!
Channelside Bay Plaza features a unique mix of retail, dining and entertainment. From fine dining to fast dancing, movies to margaritas, wonderful shopping and more, Channelside Bay Plaza has it all!
It will be the place to be for college hockey fans, as we went all out for you guys and are actually renaming some of the local restaurants/watering holes for the week!
It's gonna be a great week of events going on and we'll be back on Monday to tell you about all of them, so be sure to be checking back with us often throughout the week!