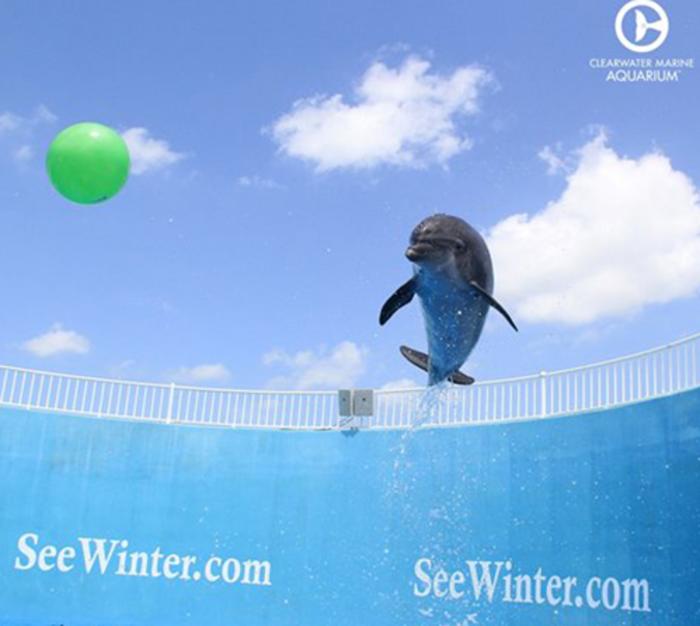 Winter and Hope packed the house in December.
The Clearwater Marine Aquarium, home to two of the most famous finned stars since Flipper, reports that it broke several attendance records at the end of 2014 -- just in time for the Outback Bowl, in fact.
The aquarium reached its highest-ever attendance on Dec. 30, when 6,654 visitors passed through its doors. The day before, 6,046 guests visited. Together, those two days' attendance was nearly double the same period in 2013.
Clearwater Marine Aquarium is an animal rehab facility that is also home to Winter, the young dolphin who was fitted with a prosthetic tail after her own tail was damaged by fishing gear and had to be amputated. Winter was the star of the 2012 film Dolphin Tale, which told her story, and last year's Dolphin Tale 2, which told the story of how Hope arrived to become Winter's new companion. Dolphin Tale 2 was released on DVD Sept. 12.
Winter and Hope aren't the aquarium's only residents. The aquarium, just off State Road 60 in Clearwater, houses plenty more animals, many of them recovering from injuries sustained in the wild. The aquarium treats dolphins, whales, otters, sea turtles, manatees and birds. It also protects and monitors 187 Loggerhead sea turtle nests.
The aquarium has plans to expand its facility at a new location in downtown Clearwater and plans to break ground this fall. You can support the expansion financially.