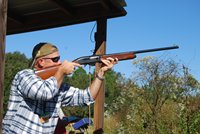 Hey everyone. Travis here with some Tampa Bay area events that support a great cause!  So listen up and definitely participate if you can. 
Hillsborough County Sheriff David Gee's Sporting Clays Shoot Out is Friday, October 8 at FishHawk Sporting Clays.  With a 9 a.m. shotgun start, teams of four will aim and fire their guns to raise money for Operation Helping Hand, the Haley House and Special Operations Warrior Foundation.
Participants will enjoy free Blue Bell Ice Cream while supplies last.  Registration begins at $125 for an individual shooter, which includes a shirt, catered lunch and gift bag.
For more information or to sign up, log on to the Hillsborough County Sheriff's Office website and click on Featured Info: http://www.hcso.tampa.fl.us/Featured-Info/News/Sheriff-Gee-s-Shootout.aspx.
FishHawk Sporting Clays is located at 13505 Hobson Simmons Rd., Lithia FL 33547.
Operation Helping Hand is an initiative of the Tampa Chapter of the Military Officers Association of America (MOAA), and has been organized to help the families of the wounded military members during their stay in Tampa Bay.
The Haley House is a non-profit organization that assists in providing local housing to injured military and their families while in Tampa Bay.
Special Operations Warrior Foundation is dedicated to providing free college scholarships and educational counseling to the children surviving Army, Navy, Air Force and Marine Corps Special Operations personnel who are killed in a training accident or operational mission.
And there you go.  So, get out and support it if you can...and if you like clay shooting!  And of course keep checking back here for more great things to do in Tampa Bay and other Tampa Bay entertainment options.