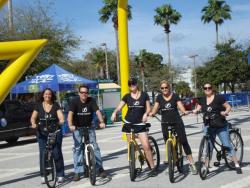 Hey Tampa Bay! Katy back to tell you about a great outdoor activity offered right in the heart of Tampa Bay! On Friday, a group of us decided to check out City Bike Tampa.

We showed up to the rental hut on the Riverwalk, only to find out it was only open on the weekends! Luckily, it was a beautiful day so we took a nice stroll through downtown to the City Bike Tampa Shop, located at 212 E. Cass Street, between Tampa and Franklin Street.

Once we arrived, the manager, Kevin Craft, set us up with bikes and we took off through Downtown Tampa. We rode along Franklin Street to the Tampa Convention Center and then along the Riverwalk to the Tampa Bay Times Forum. On our way back, we stopped for a break at the Sail Pavilion to enjoy the beautiful day on the water.

City Bike Tampa offers bike rentals, various tours around Tampa (such as their popular Urban Restaurant Tours) and even sell bikes at their store in downtown. I encourage everyone, whether you are a local or a visitor, to check out City Bike Tampa the next time you are craving an outdoor adventure!