Ok Tampa, have I got an eve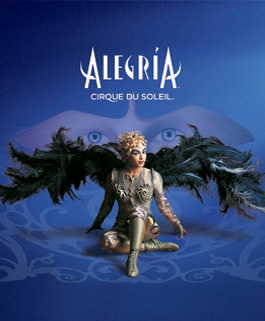 nt for you! Lisa, here with awesome news!
Cirque Du Soleil's show
Alegria
is coming to Tampa in June for 8 performances only!!! If you don't know what Cirque Du Soleil is I am going to give you a very brief summary. It's a combination of Imaginary Worlds, Grace, Dance, Daring acrobatics, Dexterity, Art form from around the World, Acting, and Other Acrobatics. For a better understanding I would recommend their
website
!
The show that's coming to Tampa is one of 22 current Cirque shows being produced right now. A handful of them are stationary shows based in Las Vegas, others are touring Europe and even Asia.
Alegria is a Spanish word that means happiness, joy and jubilation. This show features an internal cast of 55 performers and musicians from 17 countries and showcases breathtaking acrobatics (I watched the preview online and it was amazing). There are 9 acts ranging from Synchro Trapeze to Aerial High Bars to a Power Track. I could go into detail about all of those but I don't want to give anything away (I looked online, I couldn't help it).
Now to the important information. The when and where. This show will be in Tampa Wednesday, June 22nd through Sunday, June 26th. That's only 4 days, and there are only 8 shows. Wednesday and Thursday there is one show at 7:30pm, and Friday-Sunday there are two shows; one at 3:30pm and one at 7:30pm. All of these will take place at The St. Pete Times Forum, you know where the Tampa Bay Lightning play.
There are a multitude of tickets available and the are
ON SALE NOW
. There are Children, adult, military, senior and student tickets available. I would act fast, because the good seats won't be around for long.
So get out there and enjoy some Arts and Culture in Tampa Bay! This will be really cool, I promise.
That's all for now, but check back for other Tampa Bay Area Events!