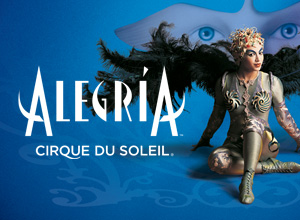 Hey there folks! It's the moment you have all been waiting for! It's trivia giveaway time!
As promised to you guys yesterday, we are giving away tickets to this awesome event via
Facebook
and
Twitter
!
As I mentioned in
yesterday's blog post
,
Cirque Du Soleil Alegria
will be coming to the
St. Pete Times Forum
on June 22-26 for 8 magnificent shows!
Today we will be giving away 2 pairs of tickets today, 1 pair for Facebook and 1 pair for Twitter, so you had better be paying attention and putting your trivia caps on!
To win, you just gotta do answer the trivia questions below on Facebook and Twitter respectively, then if you have the correct answers you are entered into a random drawing! For those of you playing on Twitter,
it does increase your chances of winning if you Re-Tweet the original trivia tweet
.
Now enough of me babbling and going on, lets get to the trivia! Remember just answer the questions on Twitter in response to the actual tweet, and if you are on Facebook just answer in the comments section of the post where we give you the link to this blog!
Here goes nothing:
This rotten to the core yet elegantly dressed guide to the world of Alegria, wears a red velvet coachman's jacket, carries a lighted scepter and is uniquely identified by his protruding belly?
True or False For the daring acrobats of the Aerial High Bar, three high bars are set more than 70 feet above the stage form the aerial playground.
Alegría is a Cirque du Soleil touring production, created in what year?
Okay folks, those should keep you busy for a while while you try and guess! Remember if you don't win today be sure to check back tomorrow and have another chance to do so!
That's all for now, but we'll announce winners later this evening! Stay tuned in for more updates on things to do in Tampa Bay and Tampa Bay area events!
Tickets are also still on sale
so be sure to get them so you don't miss out!