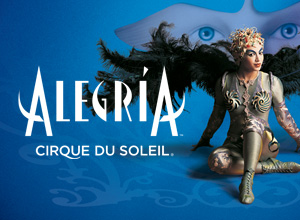 Hello folks! We are back again for another round of trivia giveaways for
Cirque Du Soleil Alegria at the St. Pete Times Forum
! Yesterday was quite popular as over 60 of you played along with us!
Like yesterday we'll be giving away 2 pairs of tickets, 1 pair for Facebook and 1 pair for Twitter, so pay attention and put your trivia caps on! The tickets are for the opening night performance on Wednesday June 22.
To win, you just gotta answer the trivia questions below on
Facebook
and
Twitter
respectively, then if you have the correct answers you are entered into a random drawing! For those of you playing on Twitter,
it does increase your chances of winning if you Re-Tweet the original trivia tweet
.
Remember just answer the questions on Twitter in response to the actual tweet, and if you are on Facebook just answer in the comments section of the post where we give you the link to this blog!
Here goes nothing:
Dressed in a distinctive gold coat, quilted white trousers and a bowler hat, my wide grin and sparkling eyes are windows into my generous soul? Which Alegria character am I?
True or False: The Cirque Du Soleil Alegria soundtrack has sold over 500,000 copies worldwide?
My virtuoso acts defy gravity and explanation in powerful and graceful performances that combine the elasticity of the bungee with the power of the gymnastic rings, the artist soars through the air while performing acrobatic feats. Which Alegria "act" am I?
That's all for now, but we'll announce winners later this evening! Stay tuned in for more updates on things to do in Tampa Bay and Tampa Bay area events!
Tickets are also still on sale
so be sure to get them so you don't miss out!