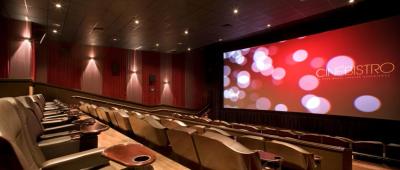 CineBistro at Hyde Park is releasing director Christopher Nolan's latest film, "INTERSTELLAR," in exclusive 35mm film format beginning today (two days before it's national release).  CineBistro is one of only a few select theaters nationwide screening this film in the 35mm format.
What makes filming in 35mm so cool?
35mm film format allows guests to view the movie in the raw format that it was shot.  Combining state-of-the-art digital sounds with the most advanced technology to project light through a 35mm to delivers clear, high resolution images and an unforgettable viewing experience.
The story behind "INTERSTELLER" follows a group of explorers as they attempt to surpass all human limitations of space travel through a never-before-seen wormhole.  The Oscar-winning lineup includes Mister Matthew McConaughey, Anne Hathaway and Jessica Chastain.
Don't miss your chance to experience this unforgettable film!
35mm Film Format Film "INTERSTELLAR" Show Times are:
Tuesday, November 4 – 8 p.m. 
Wednesday, November 5 – 4 p.m., 8 p.m.
Thursday, November 6 – 4 p.m., 8 p.m.
Friday, November 7 – 6 p.m., 10 p.m.
For additional show times and to purchase tickets visit: http://cobbcinebistro.com/hyde/