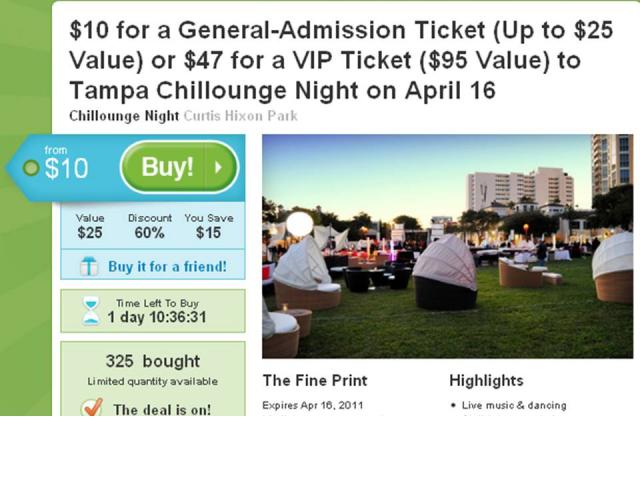 Hey Tampa, Lisa here with an awesome Groupon for an even more awesome event THIS SATURDAY night!
If you haven't heard of Groupon, or ever purchased one, now is the time! Since the Tampa Bay Weather has been so amazing lately this is a perfect opportunity to get out and enjoy it.
Saturday night in Curtis Hixon park downtown Chillounge will be taking place. The Groupon is $10 for a regularly priced $25 general admission ticket. And then $47 VIP ticket for a regularly priced $95 ticket.
The general admission ticket lets you into the festivities where there will be plenty of cash bars, food from Malio's Prime Steakhouse, fireworks, music and much more. The VIP ticket (which you have to be 21 to order), gets you free food and drinks plus a cigar; all in a private lounge.
So if you're looking for Things To Do In Tampa Bay, look no further! Come on out to Curtis Hixon Park at 6pm Saturday night. But don't forget to buy your Groupon TODAY!!!
That's all for now, but check in later for other Tampa Bay Area Events!