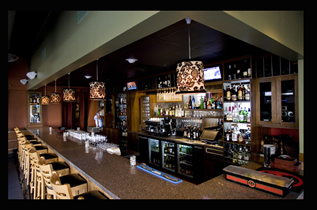 One of my all-time favorite Tampa restaurants has mixed things up a bit for the better.
Cafe Dufrain
owners Ferrell and Andrew Bonnemort have hired a new team - executive chef Ferrell Alvarez and general manager Ty Rodriguez.  The two new members of the team previously worked at
Mise en Place
so they know a thing or two about Tampa Bay dining and the restaurant business. 
Ferrell Alvarez has introduced a new menu offering certified organic and sustainable ingredients.  In fact, 75 percent of their menu offers these kind of ingredients as well as various cuisine types.  The new menu offers the downtown and convention lunch crowd many options less than $10 while the dinner entrees range from $19-$25.  I've dined at Cafe Dufrain on numerous occasions and have never had a bad experience with food, wine, service, etc.  The Bonnemorts now have the perfect recipe to keep their restaurant going strong. 
The restaurant itself is comfortable yet trendy at the same time - it's great if you want to meet some friends for a glass of wine, grab lunch with co-workers on the patio, or have a nice, romantic dinner with your boo.  Did I just type boo?  Anyway, this is a restaurant you MUST try whether you're visiting or live in the Tampa Bay area.   You'll quickly fall in love with the place. 
Stay tuned in for more things to do in Tampa Bay, or rather things to eat in Tampa Bay!