Hey everyone ~ Jessica again with some more Tampa Bay area events news... you heard me talk about it last week, and here's some more info!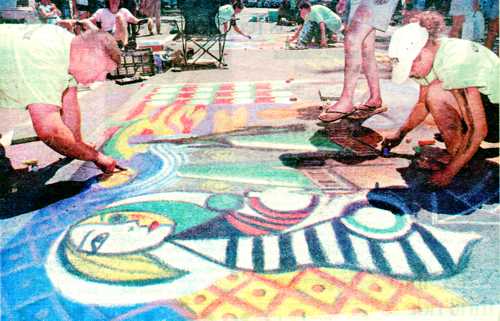 The second annual
Chalk Walk
, presented by the Tampa Bay Businesses for Culture and the Arts (TBBCA), will take place on the streets of Hyde Park Village from May 7-9!!!  The TBBCA invites local and professional artists, families, cultural organizationa, and companies to participate in this three day celebration of art for the community!
Here's how it works: local artists, students, and groups who are interested in participating are asked to fill out an artist application and submit it no later than March 31 (these can be found at
www.tbbca.org
).  The artists' planned concept will be reviewed for consistency with the overall Chalk Walk Prospectus by a committee.  The frist 60 artists that meet the criteria of the committee will be notified that they will be part of the Chalk Walk.  Some of these lucky participants will even be winners in certain categories (large, small, and plein air) and have a chance of winning up to $500 -cash!
The hundreds, even thousands, of spectators for this event will enjoy drink and food specials, live entertainment, and be able to witness some of the most remarkable art appearing right before your eyes.
Stay tuned for even more information about this event... Chalk Walk 2010 is sure to be a successful, so don't miss your opportunity to be part of the action!  As always... come back soon for more Tampa tourism news ~