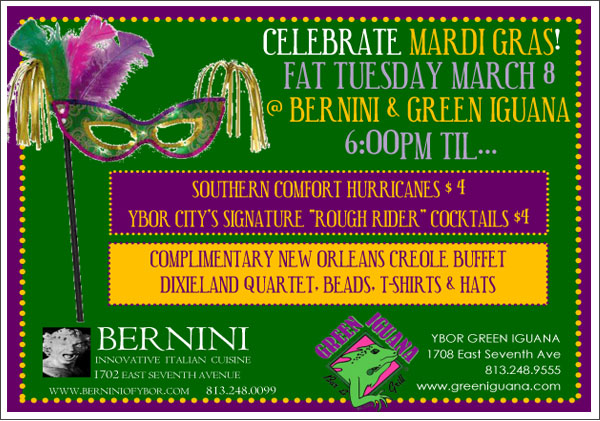 Hey Tampa Bay, Travis here with some great things to do in Tampa Bay!  I hope everyone is excited for Mardi Gras...even though you're not in New Orleans.  But just because you aren't there, doesn't mean you can't celebrate! 

For those who want to celebrate, we've got the places for you to do that!  Bernini and Ybor Green Iguana are hosting a Mardi Gras Party on Fat Tuesday, March 8 starting at 6p.m.!  Raise your hand/glass if you're in! 
The night will be full of beads, great music by the Dixieland Quartet, drinks, food, t-shirts and hats…. Oh and more beads!!!  And did I mention beads? 
You don't want to miss out on a complimentary New Orleans Creole Buffet or $4 Southern Comfort Hurricanes & Ybor City's Signature "Rough Rider" cocktails, so plan on being there! 
That's all for now, but don't forget to check back often for more information on Tampa Bay area events.