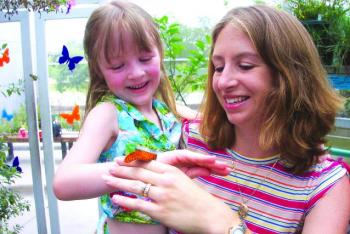 Earth Day & Astronomy Day: Saturday, April 20-21, 9 a.m. – 3 p.m.
Encouraging conservation, MOSI Outside is celebrating Earth Day with butterfly and tree garden tours, local eco-business vendors and opportunities to explore the WaterVentures Learning Lab, a 53-foot traveling science center featuring a hands-on look at Florida's diverse watersheds, water conservation, and recycling.
Blast off on Astronomy Day to meet a real NASA scientist, discover the future of space exploration and what NASA is planning for the future. Afterward, travel to the Moon in MOSI's newest exhibit, Mission: Moonbase.
World Penguin Day & Saturn Viewing: Saturday, April 27, 10 a.m. – 2 p.m., 7 p.m. – 10 p.m.                     
The following weekend, take the kids to celebrate World Penguin Day at MOSI with fun penguin crafts, games and contests.
Later in the evening, return to see Saturn fully illuminated by the Sun and in opposition, making it closer to the Earth than any other time this year. View the planet through one of MOSI's telescopes on the top of the IMAX DOME, and get up close view of the planet in the planetarium.
For an additional fee (see below), learn about the health of the ocean at Sea Monsters Revealed, an exhibition of plastinated deep sea creatures, including a Gentoo Penguin and its eggs.
Ticket pricing:
MOSI Outside and World Penguin Day are included with MOSI admission and free for members. Admission to Saturn on Saturday, April 27 is $15 or $12 for MOSI Members. Tickets for Sea Monsters Revealed are $18.95 for adults, $16.95 for seniors (60+) and $12.95 for children (2-12). Guests can add MOSI general admission or a documentary IMAX film to their Sea Monsters Revealed ticket for $5 each. MOSI Member tickets for Sea Monsters Revealed are only $10 for the entire month of April.