Jerm here with a pretty cool update and chance for you guys to win a  pretty sweet prize! Tampa Bay's revolving rooftop restaurant, The
View at CK's
is celebrating over 35 years of memories in Tampa Bay with a unique Facebook contest for guests.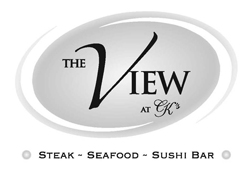 CK's Facebook Fans simply share their favorite memory of The View at CK's for the chance to win a $50 gift certificate! The View at CK's is a seafood, steak and sushi restaurant, located atop the
Tampa Airport Marriott
inside
Tampa International Airport.
Not only does CK's offer a convenient location for business and pleasure travelers, they offer the best views of Tampa Bay.
I can attest to that as you haven't seen a plane take off and land, a sunset, or a lightning show until you have seen it from this view!
I had my first real taste of sushi at CK's about a year and a half ago so I have
Chef Debra
to thank for that. Did I also mention that CK's has the most bangin mashed potatoes that I have ever tasted! For those of you cool impaired people, "bangin" mashed potatoes means very good/tasty.
Now you can enjoy CK's prix fixe menu with 3-course meal selections for $25. Visit
www.CKsTampa.com
to become a
Facebook Fan
and enter the CK's 35 Years of Memories contest. Or 
book your hotel and dining package here now
.
Be sure to make sure you get out to CK's so you can have a great story to tell and win this contest! It only takes a second to
make a reservation
so hop to it!
Until next time, be sure to stay tuned in for more Tampa Bay dining updates from Jerm and the rest of your Tampa Bay team?