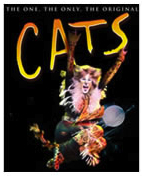 Hello there all, Jerm here and I think you guys know what time it is..., once again IT'S TRIVIA TIME!!! Just like yesterday, i am in the mod to giveaway some free tickets to  awesome Tampa Bay area events this week!
Once again today you will be playing for two tickets to
Cats
this Friday at the
David A Straz Jr. Center for the Performing Arts
!
Winner of seven Tony Awards including Best Musical, CATS features 20 of Andrew Lloyd Webber's timeless melodies, including the hit song, "Memory." And now residents of Tampa Bay and the surrounding areas will have the chance to experience this magnificent show!
Here is a refresher on the way the giveaway will work. Instead of re-tweeting, just answer the question(s) on
Twitter
. Once you do that you will be entered in to win, as we will randomly draw two names.
For those of you playing on Twitter and who choose to re-tweet, it does indeed increase your chances of winning.
I draw names from the first 10 correct answers, so make sure you get the correct answer to play! Around 6pm, I will announce the winners!
Let's hop right into it! All I need you to do is answer three questions about the Cats. I promise I won't try and stump you today so don't worry:
Cats is the 2nd longest continuously running touring show in U.S. history? True or False
T.S. Eliot's widow, Valerie, contributed the unpublished material about Grizabella that was the basis for Cats' most famous song, "Memory"? True or False
"Memory" has been recorded by over 150 artists, from Barbra Streisand to Johnny Mathis to Liberace. Barry Manilow's rendition was a Top 40 hit in the U.S. True or False
That's all for now, but stay tuned later this afternoon as I announce the winner.
Stay tuned in for more updates on arts and culture in Tampa Bay from Jerm and the rest of the crew!