Hello Tampa Bay, It's Jodi to announce the arrival of the Broadway Sensation Cats to the Straz Center. This theatrical gem from the inspired mind of Andrew Lloyd Webber (The Phantom of the Opera, Evita) was the longest running show in both London and New York (where it closed its doors on September 10, 2000). As far as Tampa Bay area events go, it doesn't get much better than this!
Cats tells the story of a group of Jellicle Cats that have gathered together for their yearly ball, a celebration full of joy and mystery where one Cat is chosen to journey to the Heaviside Layer and be reborn. As the Cats gather, they speculate on who will be chosen.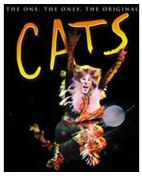 Sure the story is bizarre but that's part of the magic (the musical was based entirely on a collection of poems by T.S. Eliot, entitled Old Possum's Book of Practical Cats). Cats will transport you to the mysterious, secretive world of our feline friends. The way the cast picks up on the movements and subtle mannerisms of cats is astounding. The songs are memorable and catchy, generally upbeat. Grizabella, the Glamour cat, has the most memorable and famous of the tunes from Cats, the sad but powerful "Memory". For any theater lover, whether they like felines or not will enjoy Cats, the longest continuously running touring show in U.S. history.
Cats will run at the Straz Center between August 13 and 15, 2010 with tickets starting at $43.50. Tickets may be purchased by calling 813.229.STAR (7827) or 800.955.1045 outside Tampa Bay, in person at the Straz Center Ticket Office or online at
www.strazcenter.org
.
Cats Fun Facts:
Since its opening, Cats has been presented in 26 countries and over 300 cities
Cats has been translated into 10 languages
Cats is the largest single generator of jobs in Broadway history
Cats had a total economic impact of $3.12 billion on the city of New York
For the Broadway opening, the Winter Garden Theatre was gutted and the roof replacedto accommodate Grizabella's trip to the Heaviside Layer
The set of Cats consists of 2,500 oversized props
T.S. Eliot's widow, Valerie, contributed the unpublished material about Grizabella that was the basis for Cats' most famous song, "Memory"
Three writers tried to set words to the music for "Memory" before Trevor Nunn (the show's director) wrote the lyrics himself
"Memory" has been recorded by over 150 artists, from Barbra Streisand to Johnny
Mathis to Liberace. Barry Manilow's rendition was a Top 40 hit in the U.S.
That's all for now guys, I'll have a post show wrap-up blog tomorrow morning so tay tuned for that and more arts and culture in Tampa Bay updates!