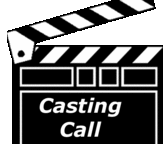 Baristas Coffee Company, Inc.
is holding an open casting call/audition for parts in its new reality TV show being produced by M&M Productions in Tampa, Florida on Jan 30, 2012.
The auditions are being held at the Tampa location on 3601 W. Gandy Blvd. Tampa, FL 33611 between 10:00 a.m and 5:00 p.m.
The show profiles the fierce competition between Baristas for top shifts and the opportunities and challenges faced by management during business expansion.  There is no lack of drama in documenting the daily lives of top Baristas, as the stakes are high and each Barista will stop at nothing to ensure that they have the best shift.
M&M Productions is one of the most prolific producers of poker entertainment programming in the United States. In 2010 and 2011, M&M produced over 100 original hours on Fox Broadcast. M&M Productions was founded by Mark Mayer, a 20-year veteran of sports and unscripted entertainment. An Emmy award winning producer at ESPN and Fox, Mayer has produced shows featuring Keith Olbermann, Dick Vitale, Jesse Ventura, Jay Mohr, Dennis Miller and many more.
Learn more about Baristas by clicking
here.
Check back with us often for more Tampa Bay Film news!