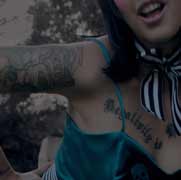 Hey everyone!  Travis back again with some great Tampa Bay entertainment for you all. It's called CAMILLE LEONE and here's teh scoop:
On Saturday, April 17 Square One will present their spring 2010 and 5th Square One Creative Event called CAMILLE LEONE. The RITZ Ybor will once again be home to the art, music, dance and fashion extravaganza that will feature 80 local artists along with over 40 musicians, dancers, models and performers. More than 2,000 attendees are expected at CAMILLE LEONE.
Each Square One Creative Event revolves around a selected theme. Artists and performers are asked to present their work based on the chosen theme which involves specific concepts, colors and subject matter. Audiences are allowed to participate in the event by incorporating the event theme elements into their wardrobe and attire.
The theme of CAMILLE LEONE revolves around individual artistic expression of a multi-faceted woman. Artists and performers will be allowed the opportunity to express their interpretation of this woman's appearance and character. CAMILLE LEONE is a play on the word "chameleon" being that this one woman will have many identities based on the varying artistic interpretations.
Audiences will be asked to participate with the theme by wearing a mask to the event to disguise or enhance their identity. The theme colors of CAMILLE LEONE are red, gold and green, an ode to the song lyrics of "Karma Chameleon" by Culture Club. Audiences will be able to incorporate those colors into their attire for the evening.
And here's the general info about the event:
Occurring biannually at The RITZ Ybor, Square One Creative Events have drawn an audience of over 10,000 attendees since their launch in the spring of 2008. CAMILLE LEONE, a Square One Creative Event, is open to the general public of all ages. There will be a $2.00 donation at the door on the night of the event. Reserved seating and V.I.P. tables are available by e-mailing rsvp@squareoneflorida.com.
Doors open at 7pm and the event will last until midnight. Showtimes for CAMILLE LEONE will be 8pm and 10pm in the Theatre Ballroom of The RITZ Ybor and will feature performances by Bella Danza (Artistic Director: Maria Capitano Pardo), V.Y.B. Dance Company, Anye Cole, J-Pop, Kinetic and Ashley Wilson with fashion shows by Disco Dolls and Lauren Kroeger. 10th Concession will be performing in the Royal Room of The RITZ Ybor all evening.
If you want more info about CAMILLE LEONE, just head over to www.SquareOneFlorida.com or www.theRITZybor.com.  And of course keep checking back for more great things to do in Tampa Bay and other Tampa Bay area events.