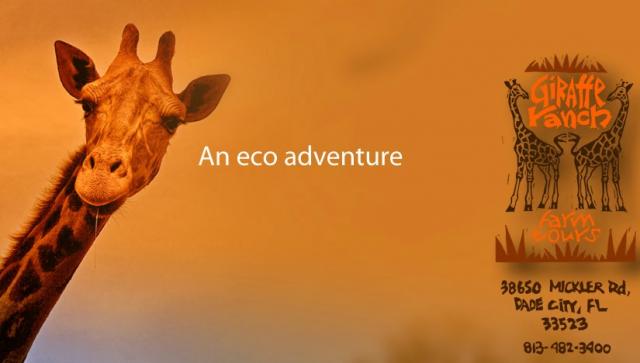 I know, the title of this blog sounds crazy, but it's true!  Hey everyone, Travis back with more amazing Tampa Bay area events to participate in.  Giraffe Ranch Farm Tours has commenced full game viewing safaris by camel back to a limited number of eco tourists and adventurers. 
The one hour camel expeditions are a high quality, low volume operation and will be limited to 8-10 participants per tour.  Tour times are at 11am and 2pm daily.  The cost per tour is $150 each.
Camel expedition participants will ride by camel back on a pristine ranch bordering the 850 square mile Green Swamp (the second largest wilderness area in Florida).  Visitors will view herds of zebra and giraffe in large expanses that are right out of Africa.  Warthog, red river hog, roan antelope, impala and flocks of ostrich are other sights to be seen. 
The ranch has been a continuously operated cattle ranch for over a century, has a natural wetland and breathtaking upland areas with Live Oaks over 400 years old draped in native orchids, ferns and Spanish moss.  Good birding.  Lots of native species.
Camel Expedition participants will walk in the tracks of Major Frances Dade and the Florida Seminole Indians and see first hand how a working cattle, horse and game farm operation works.
Camel Expedition tours are strictly limited in numbers and are by reservation only.  Call (813) 482 3400 for reservations. Here are all of the details you could need:
Who: Giraffe Ranch Farm Tours
What: Camel Expedition (camel backed safari tours).  One hour eco tour.  Operating camel rides since 1978.
When: Starting May 27, 2011.  Two tours daily 11am and 2pm
Where: Giraffe Ranch Farm Tours, 38650 Mickler Rd. , Dade City, FL 33523;
Phone: (813) 482-3400. 
Website: info@girafferanch.com
Why: Only extensive full African game viewing safari in USA by camelback.
How much: $150 per person
Age limit: 5 yrs and under must ride with an adult.  Children <3 yrs not allowed.
How: Call 813 482 3400 to book your reservation.
Have fun everyone, and if you go, let us know how it was.  And of course, keep checking back for other great things to do in Tampa Bay.