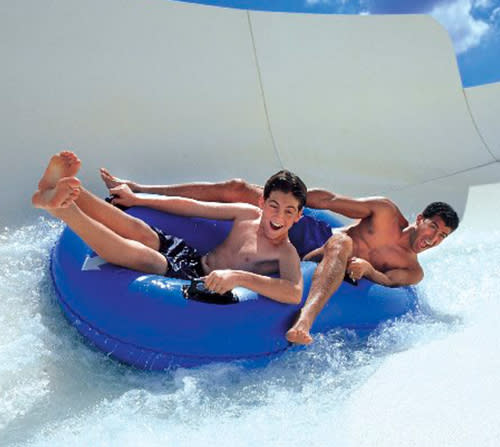 Now through June 14, Tampa Bay visitors can buy a $99 pass to Busch Gardens Tampa that also gets them access to Busch Gardens' Adventure Island water park.
The "Ride, Slide & Dine" ticket lets you choose two visits and two meals at either park. Tickets must be bought by June 14 and can be used by Oct. 11. They're only available for purchase online.
Tampa Bay is built for summer, and few things say summer like a trip down Adventure Island's Colossal Curl raft ride.
After spending a day rafting the waves at Adventure Island, cross the road and ride the Congo River Rapids at Busch Gardens Tampa. Busch Gardens also lets you dive like a bird of prey on Falcon's Fury, North America's tallest drop tower, or race like a hunting cat on the Cheetah Hunt roller coaster.
If you prefer watching animals to moving like them, move it to the Edge of Africa exhibit to see Busch Gardens Tampa's newest additions: baby endangered ring-tailed lemurs (King Julian would approve).
Between June 27 and August 16, you can experience the thrills of Busch Gardens Tampa long past sunset when the park begins its "Summer Nights" parties. If you're still itching for another raft ride, try "Island Nights" at Adventure Island. Both parks stay open until midnight on Fridays and Saturdays in the summer.