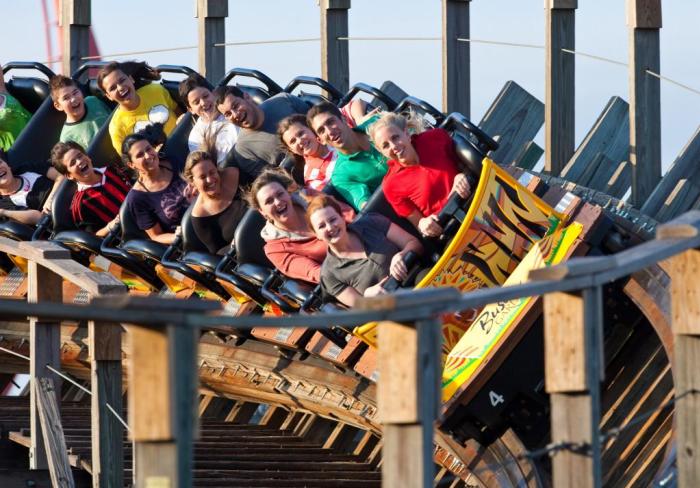 Wooden roller coaster fans: Listen up! Busch Gardens Tampa's Gwazi dueling coaster will make its final roar Feb. 1.
Catch a ride before Gwazi roars no more with the help of Tampa Bay CityPASS.
Park officials announced this month they'll retire their wooden coaster, which has rattled riders since Custome Coasters International built it in the late 1990s. It's not clear at the moment what will take its place.
"No decisions have been made about what lies ahead for Gwazi or for the future plans of that area of Busch Gardens," said Park President Jim Dean. "But, we are always looking for ways to enhance guests' experiences, so stay tuned for more news." 
Personally, Gwazi was my first coaster experience at Busch Gardens when I moved here in 2003. I've been a fan of wooden coasters since I rode the Rebel Yell in Virginia when I was a kid.
But wooden coasters everywhere have struggled of late, especially compared to the steel ones that can turn loop-the-loops and put riders through cat-like maneuvers like Busch Gardens' Cheetah Hunt (which I also love).
The loss of Gwazi will open up a prime piece of park real estate in the park and could pave the way for a newer, more modern ride. I'm excited to see what they can dream up to replace it.
Over the past few years, Busch Gardens has replaced some of its aging rides (the Python and the Sandstorm) with new thrillers. SheiKra's 200-foot plunge straight down really gets your blood pumping. And I have yet to screw up my courage enough to take a ride on Falcon's Fury, the tallest drop-tower on the East Coast.
If a fan of old-school roller coasters like I am, now's time to give Gwazi a final ride. Let's help this great piece of Busch Gardens's history go out with a roar!