Hi everyone, Jessica here to share information about an exciting Tampa Bay Area Event... We all know about Busch Gardens and how it's a great form of Tampa Bay Entertainment but here's a brief history you may not know --- Busch Entertainment Corporation (a division of Anheuser-Busch) tagged Busch Gardens as an amusement park in 1905.  The Corporation started construction across the country and from east coast to west coast, the Busch Gardens logo was hard to miss.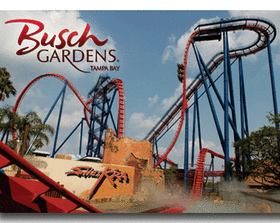 Today however, there are only two Busch Gardens theme parks in the United States, and we are lucky enough to have one of them right in our backyard!!  Tampa Bay Busch Gardens began business in 1959 by August A. Busch Jr. who officially dedicated the park.  Therefore, (have I kept you in suspense long enough?) Busch Gardens Tampa is celebrating their 50th Anniversary this summer!!!!
So don't miss this exciting Tampa Bay event... visit the park to check out the memory wall featuring hundreds of items, including pictures that highlight every major event and attraction at the park over the past five decades.  With other fun things to do like sing along at great concerts, scream on thrilling rides, and rub noses with exotic African animals, Busch Gardens is the place to be if you're wondering what to do.  Visit their website to purchase tickets and learn more! <
www.buschgardens.com
>
That's it for now everyone, but there is always more exciting news about Tampa tourism to come... Check back for more things to do in Tampa Bay!!